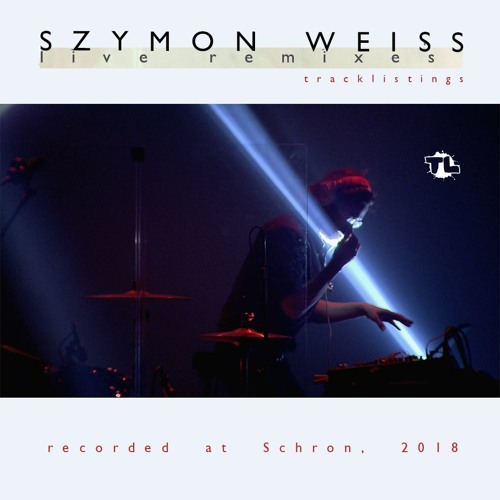 Szymon Weiss - "Live Remixes Mixtape 2018" / Tracklistings #324
Szymon Weiss - an outstanding producer from Poland, DJ - selector,           multi-instrumentalist, electronic drums experimentator, ideologist,     philologist, vegetarian, what not..  
His latests endeavour - ​Weiss Video Orchestra - is an 18 people            symphonic-orchestra/techno act. This entire crew accompanies his       synthesizers, drum-machines and a jazz drum-kit. Reaching for Carl         Craig's language, Weiss proves one can do it with a new and            drastically fresher approach.
See the entire concert here: https://​goo.gl/TozXEi
Now, if you love and miss cutting edge 90s electronics, (so called            IDM or whatever raving to "Artificial Intelligence" reminds you         of…) you will be taken into a sentimental journey via masters of            the time. Expect however, radically remixed sound, mashed-up        arrangements, juggled along with his electronic drum-kit and        step-sequencers. FSOL, Autechre, Bjork, early Tresor's compilations, but as well as          samples from Venetian Snares or David Bowie… this all is what Weiss            is referring to, and remixing those in front of you, Weiss           shamelessly aligns own productions to it. "Woman", "Banka" (released         by Oliver Koletzki's label Stil vor Talent) or his possibly most           truculent piece "The Transsiberian".
Being commissioned this mixtape, the artist, now listed among others          like The Hacker, David Carretta & Workerpoor, The Horrorist, Al          Ferox, Umwelt, Larry McCormick, Dez Williams, DJ Overdose, DJ Billy          Nasty… Weiss does not remain indebted.  
He's motto, a current hashtag is #technotozamalo, which simply means          #technoisnotenough
Enjoy!
https://fb.com/weisssound
https://soundcloud.com/weisssound
https://www.youtube.com/weissmusic
https://elektrische.tv