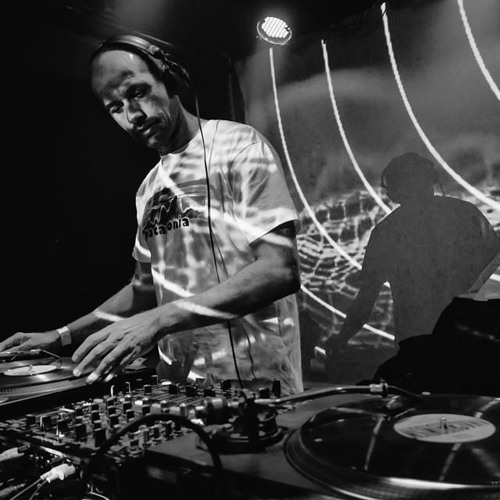 Le Chocolat Noir aka LCN is hailing from the Croatian industrial city of Sisak, currently residing in the northern Adriatic port of Rijeka. His vision of clubbing was formed in the Zagreb underground parties already in '91/'92 dancing lost in the smoke under strobe lights along with other freaks.
In the music scene since the beginning of the Millenium both as DJ and music producer, he left his marks in the local club scene. His latest releases on Gooiland Elektro, Frigio, Charlois, In The Dark Again, Kratjerkz, Mechatronica and Helena Hauff's Return To Disorder however exposed him to the wider audience. Also producing under alias Honored Matres as well as in a group FFFC he is not the best example of style consistency, nevertheless his layers of noirness are characteristic for his live and DJ sets mixing electro, EBM, techno, synth/wave and acid(house), along with everything else his ear and mind find captivating enough.
Last but not least, during the last six years LCN is selecting and playing a wide range of music in his radio show Disco Panonia on the Den Hague based Internet radio Intergalactic FM.
Selected discography Le Chocolat Noir
Lab Personnel - Recreation EP (Medical Rec) 2018 vinyl
(as LCN with Zarkoff, Ikonal and Biro on tracks 7_1, 6_1, 6_2, 6_3)
Le Chocolat Noir - Something Came Over Me (Unknown Pleasures) 2018 CD
(track appears on VA compilation "Tribute To Genesis Breyer P-Orridge")
Le Chocolat Noir - Maximum Capacity Reached (Mechatronica) 2017 vinyl
(track appears on VA compilation MTRON004)
LCN - Autonomie EP (Enfant Terrible / Gooiland Elektro) 2017 vinyl
Le Chocolat Noir - Reason (Mélodies Souterraines) 2017 vinyl
(track appears on VA compilation "U/V")
Le Chocolat Noir - Models Unrepresentative EP (Charlois) 2016 vinyl
Le Chocolat Noir - Never Let Go (Coexistence Mix) (In The Dark Again) 2016 vinyl
(track appears on VA compilation "ITDA#6")
Le Chocolat Noir - Dans Le Salon Des Refusés (InClub Records) 2016 cassette/digital album
Honored Matres - Subliminal Wargames EP (Adriatiko) 2016 file
Le Chocolat Noir - Transform EP (Frigio Records) 2016 vinyl
LCN - Appartenance (Gooiland Elektro) 2016 vinyl
(track appears on VA compilation "Noblesse oblige")
Honored Matres - Subliminal Wargames EP (Adriatiko) 2016 file
Le Chocolat Noir - Untitled EP (Return To Disorder) 2016 vinyl
Honored Matres / Le Chocolat Noir – Pannonia Noir Pt2 EP (Kraftjerkz) 2016 vinyl
Honored Matres – Methylphenidate (Seagrave) 2015 file
(track appears on VA compilation)
FFFC - Songs From The Lab EP (Gooiland Elektro) 2015 vinyl
Honored Matres - Tiramisu In Rome (Creme Organization) 2015 file
(track appears on VA compilation)
Le Chocolat Noir - Disco Noir (Bordello A Parigi) 2014 vinyl
(track appears on VA compilation "Riviera Disco Vol. 3")
Le Chocolat Noir - Aiming For Utopia (Disco Panonia) 2014 audio cassette/digital album
Honored Matres - Pannonia Noir EP (Kraftjerkz) 2014 vinyl
Honored Matres - Liberation (Frigio) 2014 vinyl
(track appears on VA compilation "All Stars Vol. 1")
Le Chocolat Noir - Futu.e Is B.ight (Soundtravels) 2013 vinyl
(track appears on VA compilation "Point Of View Pt1")
Le Chocolat Noir - Fetish (Attractive!) 2013 vinyl
(track appears on VA compilation "Tunes That R...Attractive!)
Divider w/ Jasmin Yas - Minimal Distraction (Basic Unit Productions) 2013 digital
Le Chocolat Noir - Losing It EP (Adriatiko) 2013 digital
Le Chocolat Noir - (Dans) Les Ombres EP (Disco Panonia) DP02 audio cassette/digital 2013
Le Chocolat Noir - Irreversible (Romance Moderne) 2012 vinyl
(track appears on VA compilation of Romance Moderne)
Le Chocolat Noir - Way Out EP (Disco Panonia) DP01 audio cassette and 3" CD (ltd)/digital 2012
Le Chocolat Noir - Irreversible (Romance Moderne) RM001 digital 2011
Le Chocolat Noir - Bitter Sweet EP (Home Made Electronica) HME036 2011 digital
Le Chocolat Noir - Impatient With Stupidity (Clever Mix) (WAD Radio) 2010 CD/digital
(track appears on VA compilation WAD Radio 5th Anniversary)
Le Chocolat Noir - Who We Are EP (Home Made Electronica) 2007 digital
Remix:
Divider with Jasmin Yas - Minimal Distraction (Le Chocolat Noir RMX) (Basic Unit Productions) 2013 digital
Margita Je Mrtva - Blitzmadel (Le Chocolat Noir Tanz Remix) (NAUK) 2011 digital
Follow Le Chocolat Noir :
Bandcamp : https://lechocolatnoir.bandcamp.com
Discogs : https://www.discogs.com/fr/artist/1277931-Le-Chocolat-Noir
Facebook : https://www.facebook.com/le.choco.noir
Instagram : https://www.instagram.com/yasnoir
Mixcloud : https://www.mixcloud.com/lechocolatnoir
SoundCloud : https://soundcloud.com/yasssa
Tracklist :
01. Beta Evers – Nichts Als Worte [Falco Invernale Records]
02. Smersh – Sideways (Charles Manier Remix) [Dark Entries Records]
03. Kris Baha – Push [Pinkman]
04. Beau Wanzer – Snake And Shake [Mannequin Records]
05. X-Ray Pop - La Machine À Rêver (Red Axes Edit) [Dark Entries Records]
06. Your Planet Is Next – Ergotism [Junk Yard Connections]
07. Fixmer – The Wall [aufnahme + wiedergabe]
08. Schwefelgelb - So Heisser Es Wird [Fleisch]
09. Frequencia – Golden Hands [Jealous God]
10. Luke Eargoggle – Goodbye No Forever [brokntoys]
11. Essaie pas - Les Aphides [DFA]
12. Helena Hauff – Sloe [Return To Desorder]
13. Maelstrom – Vznietit [Central Processing Unit]
14. Innershades – Aalst To Charlois [Mechatronica]
15. Jensen Interceptor - Sof Cell [Stilleben Records]
16. BS-1 – Genetic Waste [Discos Atónicos]
17. LCN – Solitude [Gooiland Elektro]
18. Porn.Darsteller – Hands On Me [Invasion Planète Recordings]
19. Zania Morgan – Flor Y Navaja [Falco Invernale Records]
20. Franz Falckenhaus – The Tragic Sadness Of F. Falckenhaus [Giallo Disco Records]