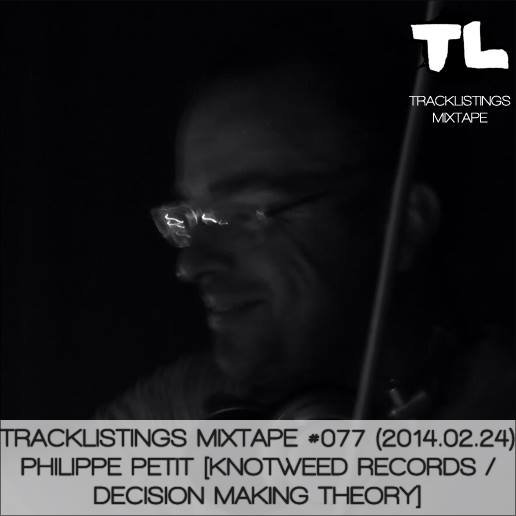 Today our guest is Philippe Petit.
Techno DJ and producer from Brussels, based in Chamonix, France after 15 years in London, he's the boss of 2 heavy vinyl labels : Knotweed Records (Myk Derill, Gonzalo MD, Opuswerk, Myles Sergé, Terrence Dixon) & Decision Making Theory.
His tracks are supported by Arnaud le Texier, Ben Klock, Ben Sims, Cassegrain, Darko Esser, Etapp Kyle, Jeroen Search, Laurent Garnier, Marcel Dettmann, Markus Suckut, Mattias Fridell, Miss Sunshine, Myk Derill, Nina Kraviz, Paul Mac, ROD, Rolando, Terrence Dixon, Thomas Hessler...
Digital available on Bandcamp: www.philippepetit.bandcamp.com
Knotweed Records :
Soundcloud : https://soundcloud.com/knotweed-records
Facebook : https://www.facebook.com/Knotweed.Records.Official
Decision Making Theory :
Soundcloud : https://soundcloud.com/decision-making-theory
Facebook : https://www.facebook.com/DecisionMakingTheory
Philippe Petit :
Soundcloud : https://soundcloud.com/philippe-petit-chamonix
Facebook : https://www.facebook.com/Philippe.Petit.Chamonix
Tracklist :
01. Roberto Bosco – Sonorous Waves, part 2 (Last Drop 001)
02. Modry – Terminal 2 (Singular Records 04)
03. Markus Suckut – Lethal (SCKT 003)
04. Philippe Petit – Prapators (Knotweed 012)
05. Radioslave – Clone Wars (Philippe Petit interpretation)
06. Yan Cook – Morse (Ann Aimee 4x4)
07. Nihad Tule & Bauri – slb obrada 882 (Sloboda 003)
08. Samuel L Session – Cracked (New Soil 001)
09. Perc - Take your Body Off
10. Myles Serge – Mir's Mind (Knotweed 007)
11. James Ruskin – Slit (Bleuprint 038)
12. Philippe Petit – Venus (Eartoground 009)
13. Philippe Petit – Wholesale Bas Mooy – Sons of Sins (Mord 06)
14. Samuli Kemppi – Resonant Object (Children of Tomorrow 09)
15. Lodbrock – Perfect Ire (figure SPC R)
16. Philippe Petit – Stars (Terrence Dixon interpretation) (Knotweed 012)
17. Gonzalo MD – Rigart (Decision Making Theory 004)
18. J.C. - A1 (J.C. 002)
19. Zenker Brothers – Vamp Like (Tresor 267)