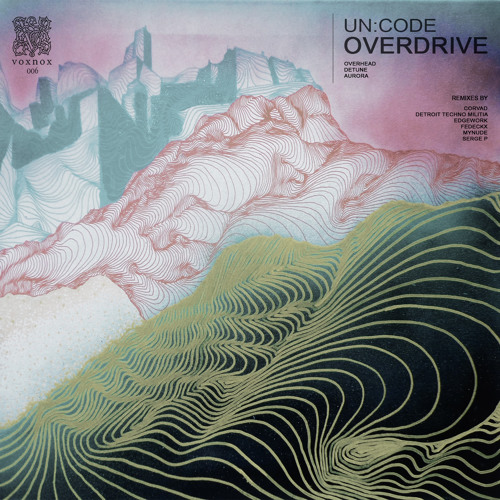 Cover Art by AweR
House
Un:Code - Aurora (Original Mix)
Techno
Un:Code - Overhead (Original Mix)
Un:Code - Detune (Original Mix)
Un:Code - Overhead (Corvad Remix)
Un:Code - Overhead (Detroit Techno Militia Remix)
Un:Code - Overhead (Edgework Remix)
Un:Code - Overhead (Serge P Remix)
Un:Code - Detune (Fedeckx Remix)
Un:Code - Detune (Mynude Remix)
[VNR006] - OG TECHNO FROM ROME
EP TEASER: www.youtube.com/watch?v=GV1DmC7Y2GE
Follow Un:Code:
Soundcloud: https://soundcloud.com/uncode
Facebook: www.facebook.com/uncodesounds
Twitter: http://twitter.com/un_code
Resident Advisor: www.residentadvisor.net/dj/uncode-it
Follow voxnox Records:
Soundcloud: https://soundcloud.com/voxnoxrecords
Facebook: www.facebook.com/voxnoxrecords
Web: www.voxnoxrecords.com/
Twitter: www.twitter.com/voxnoxrecords
Instagram: wwww.instagram.com/voxnoxrecords
Booking: fabio@voxnoxrecords.com
BIO:
UN:CODE began his creative path in 1993. His sound spaces from breakbeat to stomp actually on Indie Dance, Techno, Acid, and their psychedelic and dark rhythms.
Italian Techno activist, producer, promoter, label manager; as they are part of the few collective that really bring techno as a culture & not only as a musical reference.
Actually he is cooperating in various projects: Dj, Producer and also A&R of NO SENSE OF PLACE RECORDS and UNDERWATER ACOUSTICS. Has published some releases on POLICE RECORDS, VENTUNO, NO SENSE OF PLACE, FRESH PUMP, TAPESTOP MUSIC and some cool remixes on POLICE, HEXA RECORDS, DIRTY DROP, BENEFIT, AUDIO:KULT, SHAX TRAX and TRASH de DISCO.
His tunes was remixed by top producers like ACCESS DENIED, FREDERIC DE CARVALHO, SOVNGER, NEEDS, ALEK DRIVE and many more...
Countless artist with he shared the stage: GENERAL MIDI, THE ROGUE ELEMENT, DILEMN, MAELSTROM, UTKU S, STEREO TOTAL, I-ROBOTS, PHIL HARTNOLL, ELLEN ALLIEN, CONGO NATTY, MC NAVIGATOR and many others.
THE STORY CONTINUES...