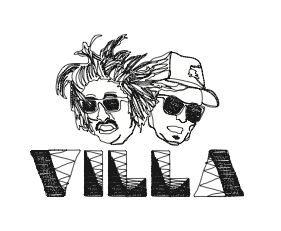 Hi all,
our previous mix got banned due to 'copyright' stuff by Soundcloud, we've got a little hunch it's 'cause of the snippets Daft; so we removed them...
We're sure you'd still enjoy the tape though!!
Again, happy 2014!
VillA
Tracklist:
-Darkside: Golden Arrow
-Dreems: With Shakkles On
-Drake: Started From The Bottom
-Chrome Sparks: Marijuana
-Brendon P: Far Inside
-6th Borough Project: Do It To The Max
-Birdy Nam Nam: Defiant Order (Breakbot remix)
-Kaytranada: Free Things In Life
-Arcadis: Still In Love
-Aluna George: Attracting Flies (Baauer remix)
-Para One: When The Night
-VillA: Exotic To Hell
-Billy Bogus: Night Movie (Kid Who remix)
-Rheinzand: The First Time
-Boys Noize: What You Want (Chromeo remix)
-The Swiss: Elouisa (VillA remix)
-Mr. Oizo: Secam
-Jackson And His Computer Band: Pump
-Justin Jay: Static
-Koreless: Sun
-Cassius: Sunchild
-Isolée: Allowance
-Pedestrian: Hoyle Road
-Mano Le Tough: Primative People (Tale Of Us remix)
-Röyksopp: Running To The Sea (VillA remix)
-Erol Alkan: A Hold On Love
-Factory Floor: Turn It Up
-Disclosure: F For You
-Peter & The Magician: On My Brain
-Green Velvet: Millie Vanillie (Dub)
-KINK: Express
-Daniel Avery: Response
-KINK: Trevoga
-Little Freaky Things: What A Bad Day (Borussia remix)
-Jim-E Stack: Come Between
-Midland: Placement (Lone remix)
-Rachel Row: Follow The Step (KINK remix)
-Duke Dumont: Need U 100% (Skreamix)
-Pulp: After You (SLWX remix)
-Jimmy Edgar: Mercurio
-Jack Beats: Hey Jack!
-Crackboy: User
-Green Velvet: Dance To My Beat
-Djedjotronic: Kaiko
-Jackson And His Computer Band: Vista (Hudson Mohawke remix)
-Jackson And His Computer Band: Orgysteria