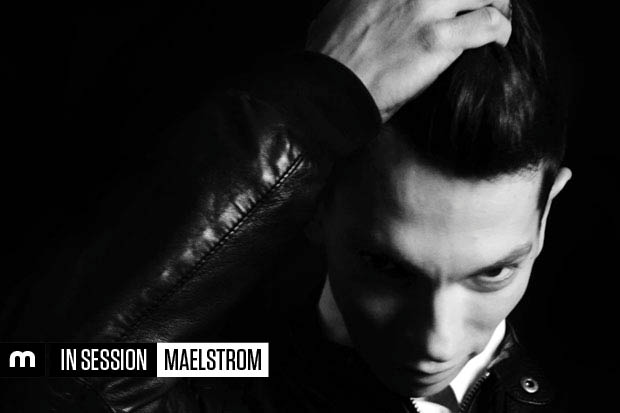 The music coming out of France is changing. The French Touch electro that set the country on fire around 2007 is still present and still thriving but a moodier, darker and more technical sound is emerging.
Labels like Bromance, ClekClekBoom and Zone are holding a grittier, more forward-facing presence and one figurehead of this is Maelstrom. Having released on Sound Pellegrino earlier in his career with tracks such as 'USSR', 'Pool Chicks' and 'House Music', his sound is synonymous with French techno.
Skip forward to 2013 and Maelstrom has been more than active. He's released a tough and menacing three-track EP on Zone, remixed 'Still Busy' by Busy P (which was taken from the Ed Banger 'X' compilation) and also made an original track called 'Bricktown District' which was featured on Brodinski's 'Purple Ride' mixtape. Queen of Bromance, Louisahhh!!! released her debut EP on the label this year and with Maelstrom's tight production on the record, the two have formed a very exciting relationship.
We saw Maelstrom do his thing at the Zone Records night at Social Club in Paris last month and after watching hundreds of rabid dancers lose their shit from 4am 'til 6am we had to call him up. For his In Session mix, Maelstrom has merged the sounds that both influence and inspire him with cuts from Djedjotronic, Boddika, Canblaster, Bobmo, Erol Alkan & Boys Noize and Funkineven. Put this on loud, throw away your plans for the next hour and get dark with Maelstrom.
An exclusive mix courtesy of www.mixmag.net
http://www.mixmag.net/music/in-session/in-session-maelstrom
01. Jensen Interceptor & Light Year - A.D.S.R
02. Makam - What Ya Doin (Funkineven Remix)
03. Truss - Redbrook
04. Canblaster Ft Paraone - Presents (Techno Club Edit)
05. Boddika - Grand Prix
06. Bobmo - Nothside
07. Djedjotronic - Abyssal Zone
08. Jon Convex - Move (Ft Jimmy Edgar)
09. Maelstrom x Louisahhh!!! - Wired Bipolars (Edit)
10. Instramental - 8
11. Huntemann & Bodzin - Rubin
12. Busy P - Still Busy (Maelstrom Remix)
13. Boys Noize & Erol Alkan - Avalanche (Canblaster Remix)
14. Truss - Ganymede
15. Djedjotronic & Maelstrom - Buran
16. Rude 66 - Images