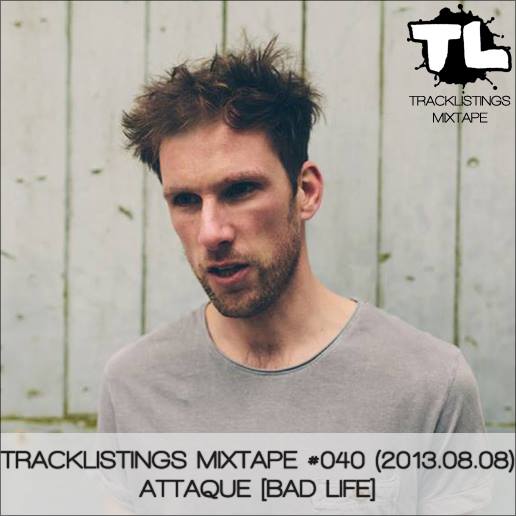 Follow Attaque :
http://www.attaquemusic.com/
http://soundcloud.com/attaque
https://www.facebook.com/Attaqueofficial
http://twitter.com/attaquemusic
http://attaquemusic.tumblr.com/
Follow Bad Life :
http://www.bad-life.com/
http://soundcloud.com/bad-life
https://www.facebook.com/wearebadlife
http://twitter.com/wearebadlife
https://www.youtube.com/user/actiomgmt
http://www.beatport.com/label/bad-life/18556
For the 40th exclusive Mixtape we are proud to receive Attaque from Bad Life !!!
With massive support from the likes of Tiga, Erol Alkan, Fake Blood & Brodinski, Attaque has quickly become one of the rising stars of the modem electro and techno scenes. His original productions on Bad Lifen, Dim Mak, Turbo and Lektroluv as well as huge remixes for ZZT and Bart B. More have set Attaque apart as an extraordinary talent. His music is always found in the setlists of the biggest names whilst he has himself earned a reputation as a remarkable live performer and DJ through his epic sets in the world's best clubs including Bugged Out, Paris Social Club, Razzmatzz Barcelona, Air Tokyo and Transmusicales.
With a string of EP's to come throughout the year, and big support already from Mixmag, DJ Mag, The Guardian, Les In-rocks and BBC Radio 1, 2013 looks set to be Attaque's busiest year yet.
His full live band's debut show at Tranmusicales was for many the highlight of the festival and he takes to the road for live and DJ dates of clubs and festivals across the globe throughout 2013.
For the full Tracklist : try to guess it or wait until 500 plays!
This one is for Charlie: Nightmares is Attaque's masterpiece of garage-techno-griminess
Attaque returns to Bad Life on the form of his life, this time with Bones in tow (of Simian Mobile Disco's 'Hustler' fame). On 'Nightmares' she pretty much smashes everything to pieces with the gnarliest of vocal spits; a compulsive hook which drills into your skull like a backstreet lobotomy.
Bones preaches "This one is for Charlie, glad I barely new em, damn dumb bitch that always wants screw em," a fiendish mantra which weaves through an industrial apocalypse of noise.
Nightmare heralds a new epoch for the big man, a gritty game-changer perfectly engineered for that 6am warehouse slot. If only there wasn't just weirdos and Italians left.