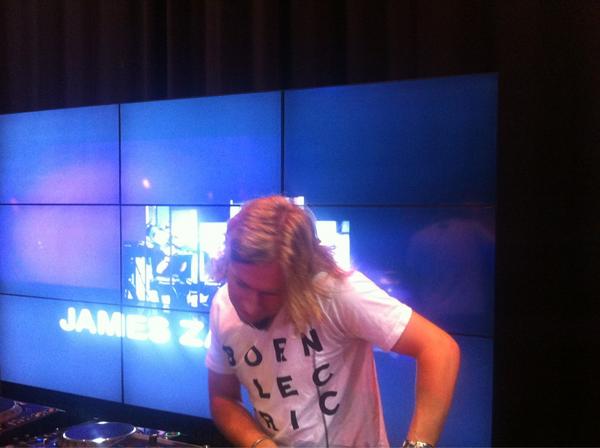 ◄◄ RECULER ► PLAY ▌▌PAUSE █▌STOP ►►AVANCER
Knowing what a great track should sound like - and the place it can be taken by warping and twisting it - is James Zabiela's forte. Layering different sounds with the combo of two Pioneer CDJ-2000s, a Pioneer RMX-1000, an EFX-1000, Korg Kaossilator, various MIDI controllers and a laptop, his hands and ears don't let up for a second, leaving any punters feet a-moving and mouth a-gap. Zabiela's demands for such a kit wherever he spins is a reminder that he's one of the scant few DJs who's still pushing things forward. James' style is trippy, bleepy and deeply - nay, downright - groovy. Oh, and watch out for a few gnarly basslines along the way, those nasty, dirty sounds are a part of JZ's signature now. Scratches, loops, and fluttering chord changes are all par for the course in a Zabiela set.
No wonder childhood idols Depeche Mode remain his heroes, they all understand that the best electronic music moves both heart and feet. And if the magic's there, the spirit will fly as well. "Entertainment and education are the key," nods James sagely. "It's all about finding the balance. People have paid good money to have a party but you still need a balance." Which is why his effects unit is so crucial to his performance. "Anyone can mix two records to a degree," he grins, while still admitting to the odd bout of nervousness during radio interviews if not behind the decks. "But I'm a hundred times more confident than I used to be. DJing has definitely helped my confidence as a person." Watching him play, it's easy to forget that making things look easy takes time to perfect. Zabiela's crossed a few bridges - and a few national boundaries - along the way. "I haven't worked it all out yet," he adds. "But I do wish I could grow an extra arm sometimes!"
Pushing the envelope while still learning to cope with a real-life fan base and life on the other side of the record counter, it's unlikely that James Zabiela will be taking a breather anytime soon.
In these days James Zabiela launches his very own imprint titled "Born Electric" It will be a home for his own music and music he loves!
█▀▀ █▀█ █▀█ █
█▄▄ █▄█ █▄█ █▄█
☆ ☆ ☆ T R A C K L I S T I N G ☆ ☆ ☆
01.) Rudimental Feat. John Newman - Feel The Love [Unknown Remix]
02.) ID - ID
03.) ID - ID
04.) Shed - Day After (Original Mix)
05.) Ultraísta - Smalltalk (Four Tet Remix)
: .ılı.——Volume——.ılı.
: ▄ █ ▄ █ ▄ ▄ █ ▄ █ ▄ █
: Min- – – – – – – – – – -●Max
✔✔✔✔ Please note, that my recording is a edited Version, this mean in detail that i have cut out a few specific corners of the Mix (prolonged talkings / interviews or because disturbing of advertising interruptions) ✔✔✔✔
[around 5 minutes are cut out, however, in such a way that it is not noticeable]