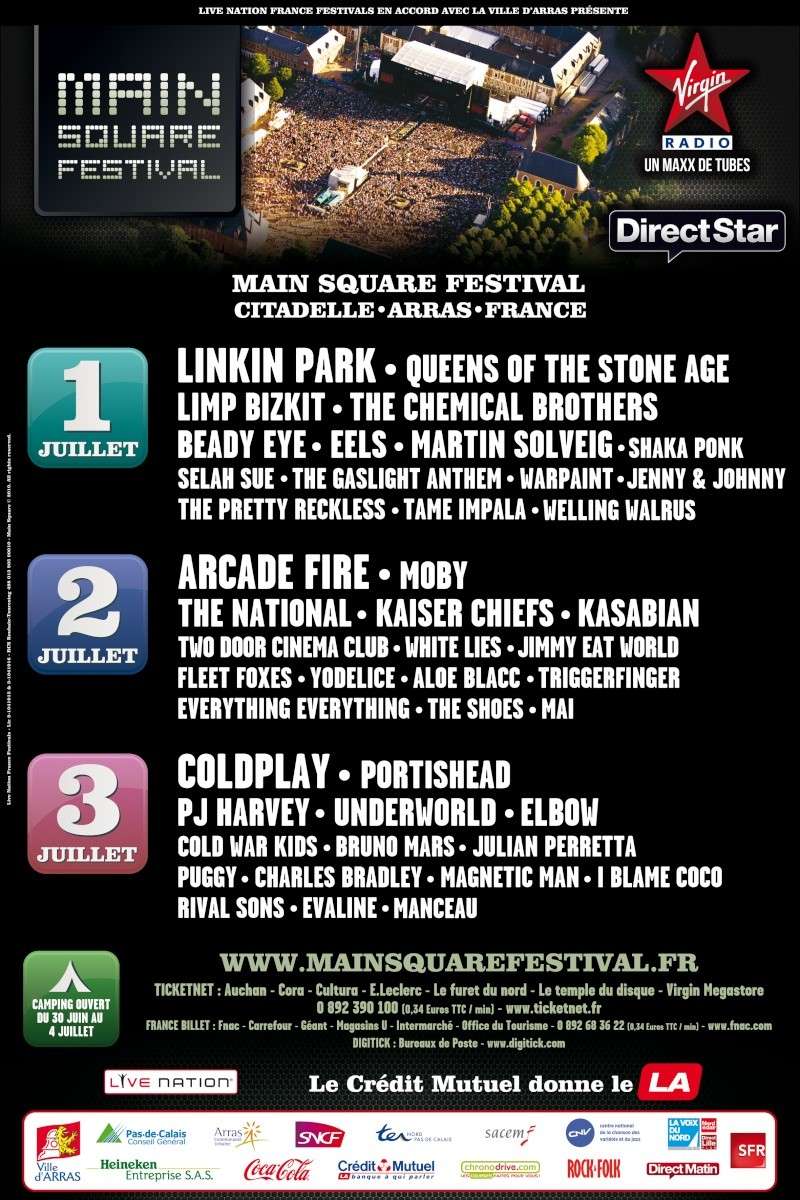 http://www.mainsquarefestival.fr
LINEUP
1st July
Main Stage
The Chemical Brothers
Linkin Park
Limp Bizkit
Green Room
Beady Eye
Eels
Tame Impala
2nd July
Main Stage
Moby
Arcade Fire
The National
Kaiser Chiefs
White Lies
Green Room
Kasabian
Two Door Cinema Club
Fleet Foxes
Aloe Blacc
3rd July
Main Stage
Coldplay
Portishead
PJ Harvey
Elbow
Green Room
Underworld
Magnetic Man
Cold War Kids
GENERAL INFORMATION
The Main Square Festival takes place in Arras Citadel, Boulevard du General De Gaulle, Arras, Nord – Pas- de-Calais
In the heart of Europe, the town of Arras is at a European crossroads where many communication roads meet. Arras is equidistant between Brussels, Paris and London.
Built between 1667 and 1672 after Vauban's plans, the Citadell is listed among the UNESCO world heritage. In 2010, the Main Square Festival settled in the heart of a 40 hectares park located very near the town centre.Thanks to the 10 hectares area of the Citadel, this vast place enables us to give the artists and the public exceptional conditions for enjoying the most of the greastest shows in this magnificent setting.
You'll find a lot of practical information allowing you to organize your coming to Arras so that you can take the best of the festival and spend the most pleasant stay with us.
_________________

TRACKLISTINGS SOUNDCLOUD   ♪ ılıll|̲̅̅●̲̅̅|̲̅̅=̲̅̅|̲̅̅●̲̅̅|llıl  :  http://soundcloud.com/tracklistings3-0