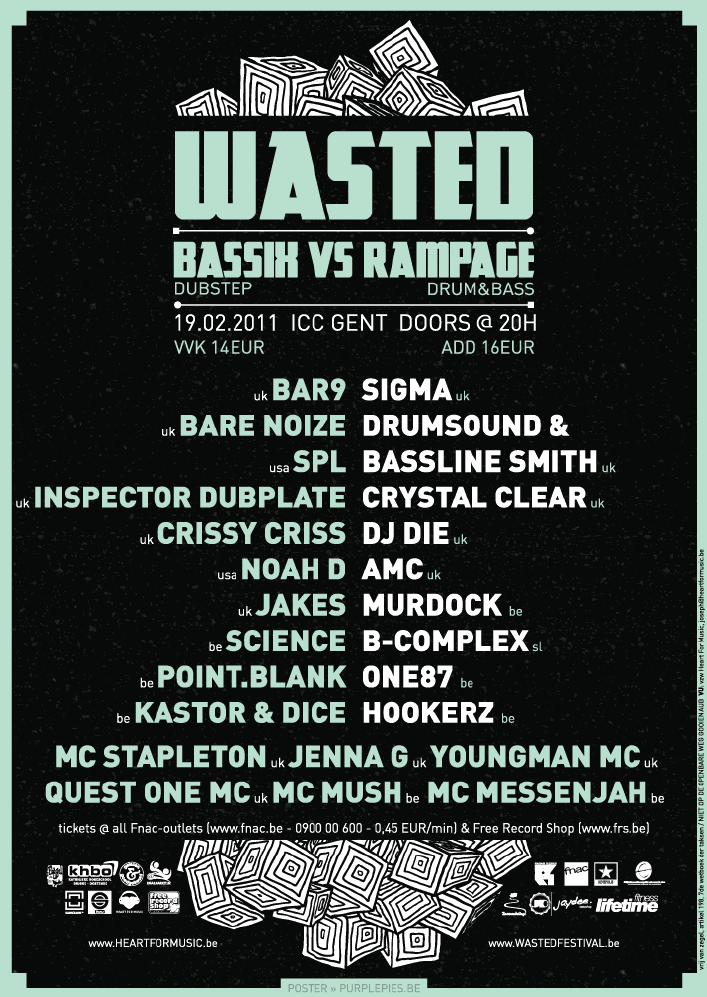 http://www.wastedfestival.be/
Wasted (BASSIX vs RAMPAGE)
Heart for Music proudly presents
WASTED (BASSIX vs RAMPAGE)
2 ROOMS :: DRUM&BASS - DUBSTEP
SIGMA (uk) :: DRUMSOUND & BASSLINE SMITH (uk) :: BAR9 (uk) :: CRYSTAL CLEAR (uk) :: MC STAPLETON (uk) ::JAKES (uk):: BARE NOIZE (uk) :: CRISSY CRISS (uk) :: B-COMPLEX (sk) :: AMC (uk) :: SPL (usa) :: INSPECTOR DUBPLATE (uk) :: NOAH D (usa) :: MURDOCK :: DJ DIE (uk) :: JENNA G (uk) :: YOUNGMAN MC (uk) :: SCIENCE :: QUEST ONE MC (uk) :: POINT.BLANK :: KASTOR & DICE :: MC MUSH :: MC MESSENJAH :: ONE87 :: HOOKERZ
The ICC Ghent is the location for the largest strafste, fattest drum & bass and dubstep event that Belgium has so far seen. A total of 13 international superstar djs and the top of the national scene, plus 7 MCs, Wasted promises the absolute highlight of the year for all those who like loud bass, and beats are tight and banging.
Rampage has been a household name in the drum & bass world and beyond, and residents Murdock, Quest One MC and AMC bring a suit, people who take the roof apart from ICC will blow.
Bassix is the industry-leading dubstep event in the low countries and they gathered again this year an unlikely series of djs and mcs to their lineup, which guarantees the dirtiest, deepest and darkest dubstep find.
To beat Rampage Wasted Bassix and joining forces for the biggest event of the year. Expect a crushing sound and a killer light show.
If you do this year but a party can visit, let it be Wasted!
▲▲▲▲▲▲▲ BASSIX :: DUBSTEP ▲▲▲▲▲▲▲
MARCHALL'S BDAY BASH
► NOAH D (USA)
Subway
► SPL (USA)
Hollow Point Recording - Amorphous Music
► BAR9 (UK)
Audio Phreaks
► BARE NOIZE (UK)
Z-audio, Audio Phreaks
►JAKES(UK)
Hench
► CRISSY CRISS (UK) ft. YOUNGMAN (UK)
Technique Recordings, V Recordings, BBC Radio 1
► INSPECTOR DUBPLATE (UK)
Inspected Records
► KASTOR & DICE (BE)
Untitled!,Laundry day
► POINT.BLANK (BE)
Buygore,Dubsaw
► SCIENCE (BE)
Untitled records,subway, Stainage
► Hosted by Mc MESSENJAH (BE)
Bassix,Sixpack,Elements Festival
▲▲▲▲▲▲▲ RAMPAGE :: DRUM&BASS ▲▲▲▲▲▲▲
◄ DRUMSOUND & BASSLINE SMITH (UK)
Technique, Breakbeat Kaos
ft.
◄ YOUNGMAN MC (UK)
V Recs, Digital Soundboy
◄ SIGMA (UK)
Hospital, Breakbeat kaos
ft.
◄ MC STAPLETON (UK)
Coldblooded, Liquid V
◄ CRYSTAL CLEAR (UK)
Ganja, Playaz
ft.
◄ MC STAPLETON (UK)
Coldblooded, Liquid V
◄ DJ AMC (UK)
Drum&Bass Arena
ft.
◄ MC MUSH (BE)
Steam
◄ B-COMPLEX (SL)
Hospital
ft.
◄ MC MUSH (BE)
Steam
◄ DJ DIE (UK)
Full Cycle, Reprazent, Clear Skyz
ft.
◄ JENNA G (UK)
"In Love", "Moving With You"
◄ MURDOCK (BE)
Jungle Fever
ft.
◄ QUEST ONE (UK)
Radar, Rampage
◄ ONE87
Star Warz
◄ HOOKERZ
Steam
PRESALE:14 euro all Fnac-outlets (www.fnac.be - 09 00 60 40 40 - 0,40/min) & Free Record Shop (www.frs.be)
ON LINE PRESALE:
http://www.ticketland.be/?shop=71
ADD:16 euro
DOORS: 20pm
For more info :
www.heartformusic.be
www.wastedfestival.be
ICC is located at Citadelpark in Gent. For directions check http://www.iccghent.com/typo/index.php?id=12&L=1%3A%3A
Train: buy "Weekendbiljet" for 9,40€ roundtrip from anywhere in Belgium to Gent
http://www.b-rail.be/nat/N/tarifs/tickets/weekend/
MORE INFO TO BE ANNOUNCED SOON ! STAY TUNED!