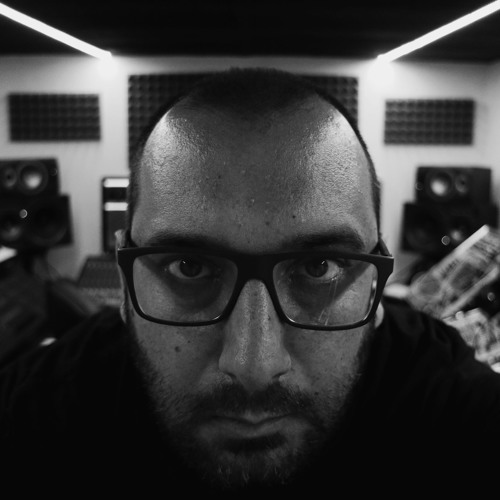 Bio : As a true sound architect devoted to the creation of an extremely personal and unique music, the spanish artist Mauro Nakimi has been constantly exploring the possibilities of electronic music. For almost 30 years, Mauro Nakimi has a special relationship with Electronic Music that he became his main work in 1991 to nowadays. Among other styles, the Electro, Techno and Breaks has been a fundamental part of his career and his dedication to this style has led him to be qualified by different media and renowned magazines as one of the most complete worldwide independent artists actually. The point that this artist gives to the Electro is very different from the classic parameters of the main style printing his personal way in all his works.
The live composition and creation of his works is one of his most remarkable signs of identity along with the use of hardware equipment without a computer. Also, the predilection for the Vinyl format for publishing his works makes this artist considered by much people a reference of the Underground Worldwide Scene. Music Composer, Live Performer and Dj with a extraordinary technique.
Artist like Alek Stark, Boris Divider, Gez Varley from the mythic LFO, Christian Wünsch, Krenzlin ( Tresor ) , Gotshell, James Wolfe, Carl Finlow aka Silicon Scally and more has remixed his works.
Production, mastering, djing, hardware, acoustic and electronic live perfomances, Mauro keeps developping new creative methods, as well as teaching, sharing his expertise with other producers in many institutions around the planet.
Under this technical obsession hides a desire for an unrestricted artistic freedom. As a composer, Mauro Nakimi gives free rein to his music whose wealth lies in the detail and reflects an atmoshphere as dark as palpable.
BWAX 003 // MAURO NAKIMI - GEOMETRISH
Pre Order open from now :
https://mauronakimi.bandcamp.com/album/geometrish-single
( Bandcamp Stock Limited to 100 copies ).
*************************************************
A1// Geometrish ( 2018 Original Rework )
A2 // Geometrish ( Gez Varley LFO Rework )
B1 // Geometrish ( James Wolfe Miami Rework )
B2 // Geometrish ( Carl Finlow Rework )
Limited edition vinyl 300 copies.
Back to Wax Records
Mastered By : Aural Mastering Services
**************************************************
Follow Mauro Nakimi :
Website : http://www.mauronakimi.com
Discogs : http://www.discogs.com/fr/artist/2913317-Mauro-Nakimi
Facebook : https://www.facebook.com/mauronakimi
Twitter : http://twitter.com/mauronakimi
YouTube : https://www.youtube.com/channel/UCL4-k_Z5w6TzX_UKGTIaMMA
SoundCloud : http://soundcloud.com/mauronakimi
Instagram : http://www.instagram.com/mauronakimi
Mauro Nakimi LTD
Web : www.mauronakimi.com
General : info@mauronakimi.com
Booking : melanie@tn-agency.eu
Phone : +336 59 92 16 63
*****************************************
Press/Com : press@mauronakimi.com
Music Inquires : music@mauronakimi.com
******************************************
Tracklistings Mixtape #143 (2014.11.19) : Mauro Nakimi
https://soundcloud.com/tracklistings3-0/tracklistings-mixtape-143-20141119-mauro-nakimi
For the full Tracklist : try to guess it or wait until 500 plays!
01. ID
02. ID
03. ID
04. ID
05. ID
06. ID
07. ID
08. ID
09. ID
10. ID
11. ID
12. ID
13. ID
14. ID