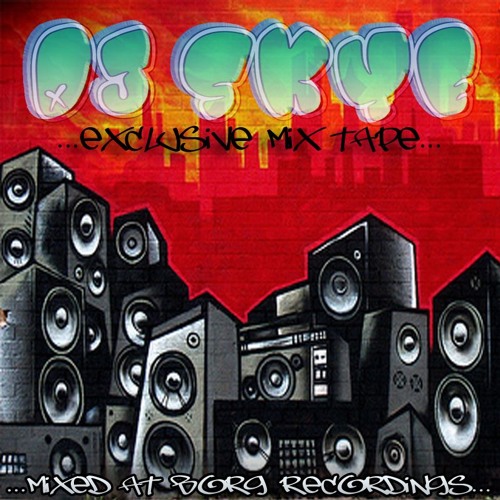 Sky Borg : "If you like old skool Acid, Bleepz, Hardcore Rave, DnB & Jungle then this is the mix for you"
Bio : NOTTINGHAMS OWN DJ SKYE HAS BEEN SPINNING THE ONE'S AND TWO'S SINCE 1984,
SO HE'S AN EX BREAK DANCER AND ALSO PLAYED AT MANY RAVES IN THE 90'S.
IN THE PAST HE HAS HAD MANY RESIDENCIES AT BARS AND PLAYED MANY MIDLANDS CLUBS,
AND RAN HIS OWN PROMOTIONS NIGHTS "GROOVE ENTERTAINMENT PROMOTIONS"
HE HAS PLAYED FOR TWO NOTTINGHAM PIRATE RADIO STATIONS (BUZZ FM & SPN)
SKYE HAS BEEN MAKING MUSIC OF ALL KINDS FOR WELL OVER 20 YEARS AND HAD SEVERAL
RELEASES ON LABELS IN MOST GENRES OF DANCE MUSIC ALL OVER THE WORLD INCLUDING
UK'S "STREET SOUNDS" & "GERMANY'S" CITY BEAT RECORDS BOTH ON VINYL AND DIGITAL.
HE ALSO RELEASED A VINYL DJ SCRATCH LP CALLED "BATTLE TOYS" AND VARIOUS NON LEGIT
WHITE LABEL "BOOTLEGS"
IN 2014 HE STARTED HIS OWN UNDERGROUND ELECTRO LABEL "BORG RECORDINGS"
FOCUSING ON UNDERGROUND UNKNOWN TALENT AND THIS SOON GOT A LARGE UNDERGROUND
LOYAL FAN BASE.
ALTHOUGH NOT DJ'ING OUT AT RAVES ANYMORE HE IS MORE AT HOME IN THE STUDIO
MAKING ELECTRO, D&B, JUNGLE AND NU RAVE.
DJ SKYE IS AND ALWAYS WILL BE "OLD SKOOL"
Follow DJ Skye (aka Skyborg) :
Website (DJ Skye) : https://djskyeuk.webs.com
Facebook (Skyborg) : https://www.facebook.com/borg.recordings
Bandcamp (Skyborg) : https://skyborg.bandcamp.com
Bandcamp (DJ Skye) : https://djskye.bandcamp.com
SoundCloud : https://soundcloud.com/skyborg_uk
YouTube : https://www.youtube.com/watch?v=8iTE2-fJFWk
Borg Recordings :
Facebook : https://www.facebook.com/borgrecordingsuk
SoundCloud : https://soundcloud.com/borg-recordings
Tracklist :
01. It's acid
02. Rainbow of bleeps
03. Rave generation
04. T99 vs Terminator
05. Are you ready
06. GoldieVox
07. Open your mind
08. Unlike us
09. Hypnotizing
10. The future
11. Lets get deep
12. DnB in your face
All tracks written, produced, mixed and mastered by DJ Skye