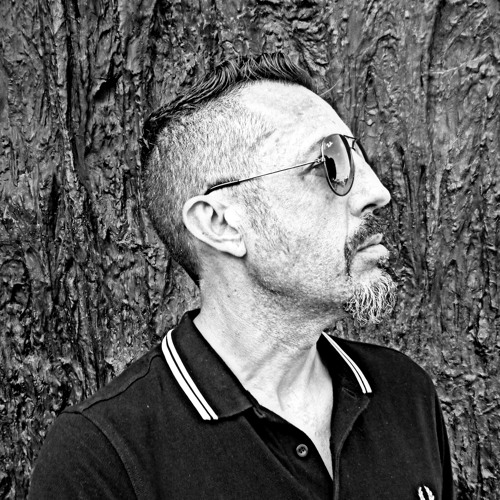 Pedro Peñas Robles is a professional DJ (since 1987), plastic artist, singer, performer and label owner. He curated many concerts, parties and compilations since 1993 and he has become one of the most emblematic figures in franco-spanish Electronic industrial & Body Music underground today as HIV+, Adan & Ilse or Fluxus.
After having played in various industrial festivals (l'Usine/Switzerland, Infest/UK, Nocturna/Spain, Noxious Art Festival/France...) and many countries (Spain, Belgium, UK, Mexico, USA, Canada, Chile ...) he officially remixed bands as Sonar, Nitzer Ebb , Hocico or Morbid Angel and was remixed by Absolute Body Control, Haujobb, David Carretta, John Lord Fonda, Radical G, Christopher Kah, Theremynt, Mlada Fronta... Nowadays Pedro is lead singer & executive producer of the french Synth Wave duo Adan & Ilse, and since 2013 he manage Unknown Pleasures Records label for promote Cold Wave & Minimal Wave, Analog Synth Pop & Industrial music. HIV+ also worked and collaborated with Gabi Delgado, The Hacker, Usher from Norma Loy, The Horrorist, Adriano Canzian, Marc Hurtado, Esplendor Geometrico, Millimetric.
UNKNOWN PLEASURES PRESENT UPR100 (Saturday 8 Sep 2018)
https://www.residentadvisor.net/events/1138632
https://www.facebook.com/events/178255866380600
Special anniversary night - 5 years of the label and 50 years of the director - with an exceptional line up counting with three of the greatest DJ's and French electronic producers of these last two decades !!
THE HACKER (Zone records/Dark Entries)
DAVID CARRETTA (Space Factory)
MILLIMETRIC live (M-Tronic)
HIV+ (Unknown Pleasures Records)
MODULECROWN (Barcelona)
Follow HIV+ :
Bandcamp : https://hivmusic1.bandcamp.com
Discogs : https://www.discogs.com/artist/89063-HIV
Instagram : https://www.instagram.com/unknown_pleasures_records
Mixcloud : https://www.mixcloud.com/HIVpositive
SoundCloud : https://soundcloud.com/unknownpleasuresrecords
Vimeo : https://vimeo.com/user12579514
YouTube : https://www.youtube.com/user/Havoc2027
Tracklist :
01. Front 242 - Masterhit (Part I - Masterbaster) [Red Rhino Europe]
02. Lassigue Bendthaus - Automotive (white label)
03. Depeche Mode - Tora Tora Tora ( Alternative Mix )
04. Joy Division - Love Will Tear Us Apart (Kalipo Edit)
05. DJ Hell Presents Klaus Nomi - Cold Song 2013 (Remodeled)
06. NORMA LOY - Second-Life (NSj Remix) [Unknown Pleasures Records]
07. LAAG - under the flag I & II
08. happiness project - Just because (Martin Dupont cover)
09. He Said - Could You? (Too)
10. hausfrau - Season of the witch (Joset Remix)
11. Grauzone - Der Weg Zu Zweit (Alkalino rework)
12. Q Lazzarus - Goodbye horses (Cockwhore & Macho's Krikor Chorus Edit)
13. The Human League - things that dreams are made [Tiga remix]
14. Depeche Mode - Get the balance right [Original 12' Mix]
15. Xymox - Stranger (demo version)