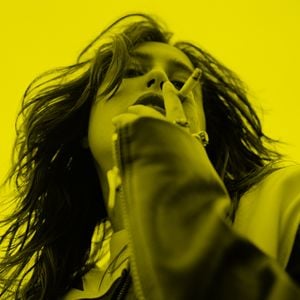 https://crackmagazine.net/article/mixprofile/helena-hauff-2/
Helena Hauff is a DJ apart. A singular force who makes good on the subversive promise written into the source code of underground music. Making her name at Hamburg's Golden Pudel, the same punk attitude that seeps out the walls at that storied club animates her own, distinct style. In the booth, whiskey and cigarette – laws permitting, maybe – close to hand, Hauff embraces the dark, the sinewy, the strange, pulling from deep cover EBM, techno, post punk and electro. What's more, as she's levelled up from basement clubs to festivals and sprawling main rooms, Hauff has resisted diluting her sound, instead doubling down on her uncompromising style. Not only has this shored up her status as one of the most compelling selectors out there, but raising the bar for club culture in what appears to be a new golden age. It's why, in November last year, we crowned Helena Hauff the Most Exciting DJ in the World (Right Now). And it's why we've tapped her to deliver Crack Mix 200.
Of course, Hauff rises to the challenge in characteristic style, turning in an hour-long set of extraplanetary electro and acid house. Without giving too much away, this is Hauff at her most transportive – a set that feels mapped to the body, but in thrall to a kind of analogue romanticism. We wanted our 200th mix to be special and, maybe we're biased, but we think we achieved it. Now, here's to the next 200.
Helena Hauff plays Field Day, London, on 2 June. Check out her full summer tour schedule here.
Tracklist (in construction) :
01. [00] ID
02. [04] Noumen - White Silence (Morphology Remix) [Central Processing Unit]
03. [10] Heuristic Audio - Fantasy At Dawn [Satamile Records NYC]
04. [13] Unborn - Skylab Program [Drivecom]
05. [17] Pye Corner Audio - Greenpoint Hangover (Morphology Remix) [Analogical Force]
06. [21] ID
07. [27] ID
08. [32] ID
09. [36] Drexciya - Black Sea (Aqualung Version) [Clone Aqualung Series]
10. [41] A Credible Eye Witness - Access Denied [ACEW]
11. [44] RXmode - Decryptor [Bass Agenda Recordings]
12. [47] The Ghost That Walks - Demons And Dumb Beats [Zyntax Motorcity]
13. [49] The Ghost That Walks - The Machine [Satamile Records NYC]
14. [53] Galaxian - Uprising [Shipwrec]
15. [56] DJ Stingray - Potential [WéMè Records]
16. [59] Project STS-31 - Spiralgalaxie [Solar One Music]