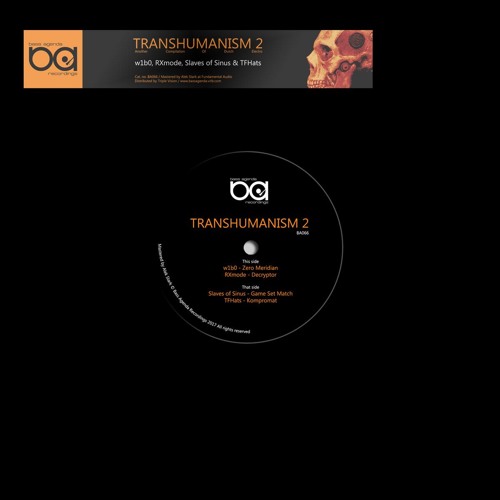 RXmode releases this year the "Transhumanism 2" Mix to celebrate the release of the vinyl on Bass Agenda Recordings on November 10, 2017
Transhumanism 2 - Another Compilation of Dutch Electro Vinyl [Bass Agenda Recordings]
A1. w1b0 - Zero Meridian
A2. RXmode - Decryptor
B1. Slaves Of Sinus - Game.Set.Match
B2. TFHats - Kompromat
Limited copies now available to pre-order on Bandcamp now : http://bassagendarecordings.bandcamp.com/album/transhumanism-2
The rest will be distributed to stores by Triple Vision : http://www.triplevision.nl/release/BA066
Artist - Various (w1b0, RXmode, TFHats & Slaves of Sinus)
Title - Transhumanism 2
Format - Vinyl and digital
Release date - 10th November 2017
Cat No. - BA066
Following on from the success of the first Transhumanism compilation (inspired when the four artists met for the first time at Dave Clarke's first Whip It event in Amsterdam) the Dutch boys are back with a vengeance. Boosted by the support of the likes of UMEK, Dave Clarke and Helena Hauff these four artists have dialled everything up a notch with four new tracks.
w1b0 is on fine form with Zero Meridian, a ferocious dancefloor destroyer with his trademark sounds. RXmode delivers his recognisable brand of heavy weight darkness in spades. Slaves of Sinus once again shows his commitment to combining dancefloor Electro beats with a few twists and surprises in the sound palette and structure; his track Game Set Match breaks down completely then launches straight back with purpose. Finally, TFHats follows up his recent vocal stunner 'Binary Stars' (as supported by Maceo Plex and Dave Clarke) with 'Kompromat' - blending cold atmospheres and melody with punchy beats and his unique vocal style.
Four individual styles of Electro united by passion, quality and that Dutch magic….
Mastered by Alek Stark
© Bass Agenda Recordings 2017 All Rights Reserved
Vinyl distributed worldwide by Triple Vision
Digital available via Bandcamp and distributed by AWAL/Kobalt
RXmode, real name Ronald Hustinx, born and living in the south of the Netherlands.
His passion for electro and techno started in the early 90's after hearing work from Laurent Garnier. From that moment artists like Garnier, Dave Clarke, Surgeon, Oscar Mulero and many more became very important in the way Ronald developed his love for the music. With shows and podcasts like Bass Agenda, Electronic Explorations and White Noise, RXmode has been influenced a lot by modern electro producers. For example Simplicity is Beauty, Clatterbox, Ital Tek and Dez Williams inspired him to create his own music, a mix of electro and techno with a dark atmospheric sound.
Hear his story on Bass Agenda:
https://soundcloud.com/bassagenda/bassagenda-148-transhumanism-special-w1b0-tfhats-slaves-of-sinus-rxmode
Follow RXmode :
Bandcamp : https://rxmode.bandcamp.com
SoundCloud : https://soundcloud.com/rxmode
Facebook : https://www.facebook.com/rxmode
Follow Bass Agenda Recordings :
Facebook : https://www.facebook.com/BassAgendaRecordings
SoundCloud : https://soundcloud.com/bassagenda/sets/bass-agenda-recordings
Bandcamp : http://bassagendarecordings.bandcamp.com
Triple Vision : http://www.triplevision.nl/label/Bass+Agenda+Recordings
Tracklist :
01. Transhumanism 2 : TFHats - Kompromat [Bass Agenda Recordings]
02. w1b0 - Alternate Conviction [Lasergum Records]
03. RXmode - Liquid [Bass Agenda Recordings]
04. w1b0 - Hammer Down Protocol [Infalux]
05. Slaves Of Sinus - People who destroy [Bass Agenda Recordings]
06. TFHats - Recollection
07. RXmode - Dragon [Bass Agenda Recordings]
08. w1b0 - Automaton [Lasergum Records]
09. Transhumanism 2 : Slaves Of Sinus - Game Set Match [Bass Agenda Recordings]
10. RXmode - Tears [Bass Agenda Recordings]
11. TFHats - Clickbait
12. RXmode - Degraded [Unreleased]
13. w1b0 - No Souls Below The Radar
14. RXmode - Harmed [Unreleased]
15. TFHats - Whipped cream
16. TFHats - Binary Stars (Slaves of Sinus remix) [Bass Agenda Recordings]
17. w1b0 - Program Yourself To Feel
18. Transhumanism 2 : RXmode - Decryptor [Bass Agenda Recordings]
19. TFHats - I am the gentle autumn rain
20. Transhumanism 2 : w1b0 - Zero Meridian [Bass Agenda Recordings]