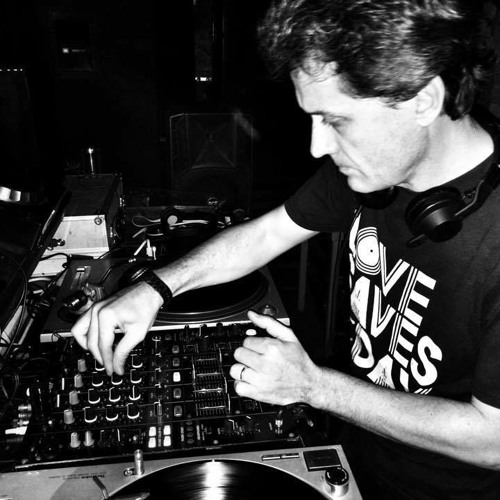 DJ, musician, producer, label owner, radio speaker, promoter, journalist and tout-court divulgator of the "electronic message", Andrea Benedetti is one of the most outstanding figures in the roman electronic scene. Involved in the most important realities coming out from Rome since the very early days ('80s), he has played a crucial role in shaping and developing the so called "Sound Of Rome".
His love for electronic music led him to start his carreer in the '80s as a DJ, spinning electro and electrofunk. While already working in his own recording studio (with Eugenio Vatta), in 1990 he provided his precious help to Lory D in creating SNS - Sounds Never Seen, the first italian experimental techno label, contributing to the first SNS releases (SNS001, SNS002, SNS003 and the 'Antisystem' LP).
In 1993 he founded his very own Plasmek label (hosting works by such artists as I-F, Anthony Rother and Keith Tucker among the others). As a musician, he's been releasing his works since 1991 using different aliases (Sprawl, Skull, New Acid Generation, etc.) and with Eugenio Vatta he is part of Frame, a live-only project which aims to experiment with sounds (in their lives they use quadrophonic sound systems). Always with Eugenio Vatta, he's released an EP on Mystic Records as The Experience. In the mid '90s he's been also performing as R.E.F. - Roman Electronix Fighters, a project with Marco Passarani and Max Durante playing with six turntables and three mixers.
In 1993 he created Tunnel, the first italian techno music fanzine, and in 1994 he co-founded the Remix Distribution (alongside Marco Passarani) and FinalFrontier (again with long term friend Marco Passarani) the first pool of roman indipendent electronic labels (including Passarani's Nature Records, his own Plasmek, D'Arcangelo's Engine Records, Pigna, X-Forces, Balance Records, etc.).
During the years, he's been collaborating with many radio stations in Rome (the most important experience has been Frequency, a weekly friday night broadcasting on Radio Città Futura, run with Marco Passarani and the guys from MAT101/JollyMusic) and magazines (Under One Sky - NY; EAR - Strasbourg; Freestyler - Zurich; Orbeat - Naples; Superfly - Roma). He's been also one of the artistic director, since its first edition in 1995, of the Distorsonie festival in Bologna, surely the most important electronic music festival in Italy. He has also created ElectRoma with Alessio Arcadi, a festival for roman electronic labels only.
Andrea Benedetti is also a regular guest in events, courses and conferences (both as teacher and lecturer), spreading and sharing his knowledge about electronic music.
He has recently wrote a book called MONDO TECHNO about the origins of Techno and its diffusion in Italy (more info: http://www.stampalternativa.it/libri.php?id=88-7226-920-2).
Follow Andrea Benedetti :
https://www.discogs.com/it/artist/17468-Andrea-Benedetti
https://www.discogs.com/it/artist/12962-Sprawl
https://www.mixcloud.com/andreabenedetti5855
For the full Tracklist : try to guess it or wait until 500 plays!
01. ID
02. ID
03. ID
04. ID
05. ID
06. ID
07. ID
08. ID
09. [28,41 - 34,54] The Egyptian Lover "P.E.L.F."
10. ID
11. ID
12. ID
13. ID
14. ID
15. ID
16. ID