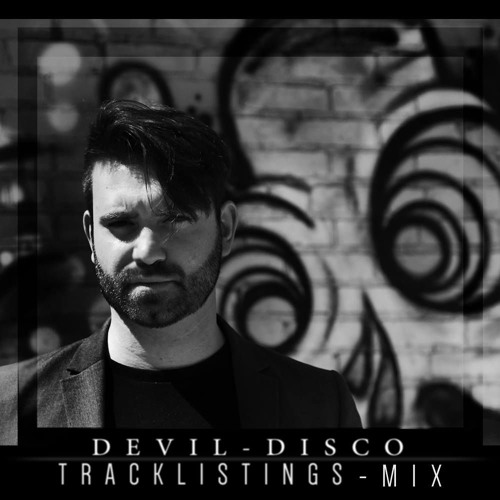 "step into the mind of Devil Disco"
Devil Disco : "I decided to make a list of inspirational tracks that have influenced me as a producer from all genres."
Devil Disco, a New York Based producer/DJ, epitomizes the new sound of dark techno. Preferring to divorce himself from the current trends of techno & electronic music, Devil Disco brings about ominous aggression from the deep roots of electro, techno, dark wave and industrial. From distant sirens to thundering kick drums, he uses his inspirations to deliver an unforgettable experience.
Follow Devil Disco :
Website : http://www.devil-disco.com
Facebook : https://www.facebook.com/devildisco
SoundCloud : https://soundcloud.com/devildisco
Tracklist :
01. Ozzy Osbourne - Mr. Crowley
02. Shredder - Playing With Fire (Devil Disco remix)
03. Djedjotronic - Pleasure & Pain (Jensen Interceptor Remix)
04. Sinden ft. Fritz Helder - Pussy
05. Bobmo - It Is Happening Again EDIT
06. Nitzer Ebb - Let Your Body Learn
07. Oppenheimer Analysis - The Devil's Dancers
08. Miss Kittin & The Hacker - 1982 HQ (Vitalic Remix)
09. Devil Disco - Unreleased
10. Art of Noise - Close-Up
11. Der Zyklus-Biometric Systems
12. OMD-Enola Gay
13. Mantronix-Needle to the groove
14. le Tigre - Deceptacon
15. Oppenheimer Analysis - Martyr
16. Placebo - Johnny and Mary
17. Autour De Lucie - Les promesses
18. jets to brazil - Chinatown
19. Joy Division - Shadowplay Nine
20. Inch Nails - Closer
21. Marilyn Manson - the Dope Show
22. Laurel Near & Peter Ivers - In Heaven
23. Visonia & Dopplereffekt - Die Reisen
24. Akira Yamaoka - Killing Time
25. Dresden Dolls - Missed me
26. Crystal Castles - Child I will hurt you
27. Cliff Lothar - Running out of time
28. Gesaffelstein - La Question
29. White Noise - Love Without Sound
30. Zwischenwelt - telemetric
31. Devil Disco - Transcendence
32. Devil Disco - Slave to Grace
33. Das Glow - Concrete
34. Dynamic Duo - Knights of the Turntables
35. Cybotron - Clear
36. Kraftwerk - Numbers
37. Dj Omega - Shake That Thang
38. Daft Punk - Teachers
39. Armando - Don't Take It
40. Armando - 151
41. Devil Disco - High Society
42. Devil Disco Freak
43. Elliott Smith - Bye
44. Portishead - Undenied
45. Ulver - Not Saved
46. Boys Noize - Transmission (Devil-Disco Remix)
47. Plastikman - Spastik
48. WC Olo Garb - Lession I Learn
49. WC Olo Garb - Krew