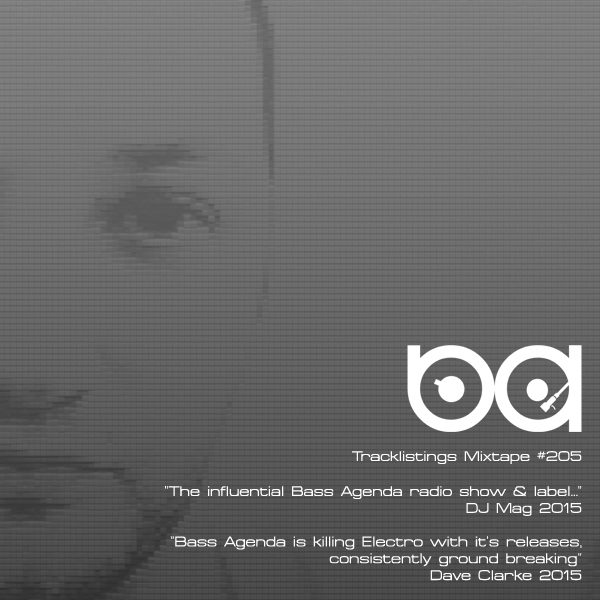 Tracklistings Mixtape #205 (2015.10.07) : Bass Agenda by Tracklistings on Mixcloud
Andy BassAgenda started the Bass Agenda Radio show in April 2012. The show is in a more traditional radio show format rather than being a straight mix podcast. Each episode features a guest who selects and talks about their influences, favourite own productions and current favourite tracks.
Guests have included Anthony Rother, Dave Clarke, Keith Tucker, The Egyptian Lover, David Meiser, DMX Krew, Gary Gritness, Marco Bernardi, Detroit In Effect and many many more. The show celebrated its 100 episode this year. As well as interviews the show features guest mixes and live sets, recent examples include DeFekt, Billy Nasty, Body Mechanic, Thomas Barnett, Carl Finlow and Clatterbox.
The show broadcasts every 2 weeks:
www.futuremusic.fm (London, Friday 20:00 UK Time)
http://cue-radio.blogspot.co.uk/ (Paris, Saturday 18:00 CET)
http://313live.org/ (Detroit, Sunday 20:00 EST)
Bass Agenda Recordings began as a label with 'The Fight Against The Mundane', a 34 track double CD/Digital release showcasing the artists that appeared on the show in its first year. The label is has now put out 33 releases including albums by dynArec, Mike Ash, Lectromagnetique, Franck Kartell and others, as well as 13 editions of the Bass Agenda Presents Series – a special series focussed on new artists, new projects and lesser known works.
Most recently Bass Agenda Recordings has released its 3rd vinyl EP, 'Octagon' by Alavux and had the honour of being involved in curating the electro selections for Dave Clarke's Whitenoise 500 compilation.
Follow Bass Agenda :
https://soundcloud.com/bassagenda
http://bassagenda.virb.com
https://bassagendarecordings.bandcamp.com
https://twitter.com/bassagenda
Tracklist :
00. ID (Intro)
01. Seldom Seen - Betos Revenge (Bass Agenda Recordings)
02. Luke Eargoggle - Audio Warriors (Bunker)
03. Helena Hauff - L'Homme Mort (Werk Discs/Ninja Tune)
04. Saturn V - Kontrol Your Mind (Creme Organization)
05. Chris Moss Acid - Spatial Dimensions (Computer Controlled)
06. The Subdermic - The Rover (minimal pass) (Subdermic)
07. Mad Mike - Burning Spear (Underground Resistance)
08. Elec Pt.1 - Zwei.Two.Dos.Twee (Bass Agenda Recordings)
09. Scan 7 - Mental Reaction (Annie Hall remix) (Detroit Underground)
10. Dexter - Echo Park (Klakson)
11. Marco Bernardi - Magic Night (Brokn Toys)
12. Der Zyklus - Mxyzptik (International Deejay Gigolo Records)
13. Das Muster - Uberhitzung (Fundamental Records)
14. Steve Rachmad - Electronic Afternoon (Sino)
15. The Aquanaughts - Aquatic Kamikazi (Underground Resistance)
16. Blaktony - The Rogue (Optic Nerve Bright Lights mix loop) (Technorama)
17. Laurent Garnier - Crispy Bacon (F Communications)
18. Alavux - Bondage (Bass Agenda Recordings)