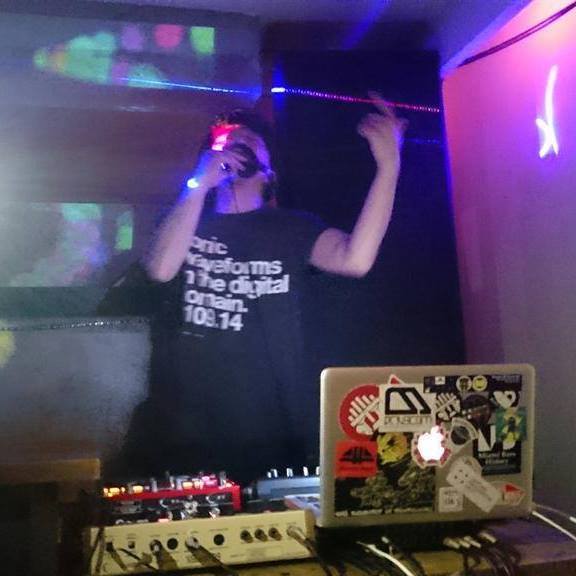 Tracklistings Mixtape #199 (2015.08.19) : AE35 [Anti Gravity Device] by Tracklistings on Mixcloud
Yosuke Ikeda aka AE35 is an Electro DJ / Producer in Tokyo, Japan.
In 2000 he started an event with his partners called "Tokyo Electro Beat Park". Then he launched an electro label "Tokyo Electro Beat Recordings", released some compilations. In 2007, he released his first EP "Electric Sunrise E.P." from Fdb Recordings. His "Underdrain EP" was chosen as 2nd out of 5 in Dave Clarke's Electro Top 5 Nov 2013.
In 2014, he left "Tokyo Electro Beat Park" and launched new electro label named "Anti Gravity Device".
His massive-electro style is regarded highly both at home and abroad. He is making electro- machine-beats from the land of rising sun to the world.
Follow AE35 :
Website : http://anti-gravity-device.com
SoundCloud : https://soundcloud.com/ae35
Discogs : http://www.discogs.com/artist/AE35
Twitter : https://twitter.com/AE35
█║▌│█│║▌█║▌│██║▌│█│║▌█║▌│█
Discography :
V/A - Infalux Conflate
[Infalux] (2015)
AE35 - Buzzing Nano Machine
https://infalux.bandcamp.com/album/infalux-conflate
T/Error - "U 235"
[Body Control] (2015)
Dynamic Mutation (AE35 Remix)
https://bodycontrolrecords.bandcamp.com/album/bc016-t-error-u-235-2xcd
Sigh Society - "Swell EP"
(2015) [Nekon Records]
Swell (AE35 Remix)
http://nekon-t.info/releases/swell-ep-sigh-society/
Inhuman Designed - "Grown for the Cyborgs Part 2 - The Scout Missions" (2015)
G.F.T.C. P2 [AE35 Remix]
https://inhumandesigned.bandcamp.com/album/grown-for-the-cyborgs-part-2-the-scout-missions
V/A - Electro Panoply
[Infalux] (2014)
AE35 - Cold Sleep
https://infalux.bandcamp.com/album/electro-panoply-2
Dubb Parade - You're Free Remixes
[Anti Gravity Device] (2014)
Rude Boy (AE35 Remix)
https://anti-gravity-device.bandcamp.com/album/youre-free-remixes-agd008
loveles - Remixes
[Nekon Records] (2014)
TV Sky (AE35 Machine Funk Remix)
https://pro.beatport.com/track/tv-sky-ae35-machine-funk-remix-original-mix/6092582
V/A - GORGE FES 2014 -stage1-
[Terminal Explosion] (2014)
AE35 - I'm a Machine (Old Type)
https://terminalexplosion.bandcamp.com/track/im-a-machine-old-type
V/A - ROBOT FES 2014
[Terminal Explosion] (2014)
AE35 - R.O.B.O.T
https://terminalexplosion.bandcamp.com/track/r-o-b-o-t
AE35 - I Know Your Future
[Anti Gravity Device] (2014)
https://anti-gravity-device.bandcamp.com/album/i-know-your-future-agd006
V/A - 1 Track Compilation (2014)
AE35 - I'm a Machine
https://www.wasabeat.com/tracks/887355-ae35-i-m-a-machine-master-original
V/A - Atomic Bomb Compilation vol.2
[ATOMIC BOMB COMPILATION] (2014)
AE35 - Savage World
https://atomicbombcompilation.bandcamp.com/album/atomic-bomb-compilation-vol-2
AE35 - Special Pattern / Machine Heart Beat
[Anti Gravity Device] (2014)
http://anti-gravity-device.bandcamp.com/album/special-pattern-machine-heart-beat-agd001
AE35 - Underdrain Remixes
[Tokyo Electro Beat Recordings] (2014)
http://tokyo-electro-beat-recordings.bandcamp.com/album/underdrain-remixes-tebr-009
V/A - Planet Electro
[Battery Park Studio] (2013)
AE35 - Underdrain (Red)
http://batteryparkstudio.bandcamp.com/album/planet-electro
AE35 - Underdrain EP
[Tokyo Electro Beat Recordings] (2013)
http://tokyo-electro-beat-recordings.bandcamp.com/album/underdrain-ep-tebr-008
V/A - Tokyo Electro Beat Box Vol.3
[Tokyo Electro Beat Recordings] (2013)
AE35 - Beep Loud
http://tokyo-electro-beat-recordings.bandcamp.com/album/tokyo-electro-beat-box-vol-3-tebr-003
V/A - Dalekovod V4 - Guardians Of Electro
[Crobot Musik] (2012)
AE35 - Brutal Man
http://dalekovod-electro.com/guardians-of-electro/
Hitachi II - Tokyo EP
[Binalog»>Productions] (2012)
AE35 - Tokyo Beats (AE35 Remix)
http://binalogproductions.bandcamp.com/album/tokyo
AE35 - Electric Sunrise EP
[Fdb Recordings] (2007)
http://www.toolboxrecords.com/en/product/6956/electro-breaks/fdb-02-6/
V/A - PARTY BOX
[Kingbeat Digital] (2007)
Robot Jox (AE35 & Yoshihiro Hayashi) + STX - Nature
https://itunes.apple.com/jp/album/party-box/id290555787
V/A - Tokyo Electro Beat Box Vol.2
[Tokyo Electro Beat Recordings] (2005)
AE35 - Samurai Sword Sharpness
http://tokyo-electro-beat-recordings.bandcamp.com/album/tokyo-electro-beat-box-vol-2-tebr-002
V/A - Tokyo Electro Beat Box Vol.1
[Tokyo Electro Beat Recordings] (2004)
AE35 - Electro Beat Stepper
http://tokyo-electro-beat-recordings.bandcamp.com/album/tokyo-electro-beat-box-vol-1-tebr-001
█║▌│█│║▌█║▌│██║▌│█│║▌█║▌│█
Tracklist :
01. Computor Rockers - Galaxy Defenders
02. Ghostlights - Security (Ghostlights Sub Rework)
03. Dynamik Bass System - Robot Machine (Code Rising Remix)
04. Takkyu Ishino - Pescatora
05. Miss Kittin & The Hacker - Sweet Dreams
06. Deekline And Wizard vs. Infiniti - Make Your Girl Feel The Bass (feat. DJ Assault On Vocals)
07. Hydraulix - I Feel Edits
08. Volsoc - Shout Out (John Tejada Remix)
09. Silicon Scally - Ghost Wires
10. Aux 88 - Alien Life Form
11. Anthony Rother - Don't Stop The Beat (Full Audio Version)
12. Boris Divider - Clone Factory
13. Dan Zamani, DJ Slip, Freddie Fresh & Tim Taylor - Untitled
14. Psylocity - Pump It
15. Computor Rockers - Microprocessor
16. Green Velvet - Shake and Pop (Hydroz Remix)
17. Bass Junkie - Welcome To Futura
18. Middle Men - Synchrotron
19. Industrial Bass Machine - Invisible Force
20. Middle Men - Defeat the Object
21. Juri-jah - Bass transmission
22. Dynamik Bass System - Side By Side
23. Freak Force Crew - The Art of Sampling
24. Exzakt - City Of Bass
25. Rogue Planet - Funky Y 2 C (808RMX)
26. Super Genius - Miami's Vice
27. Autonomous Bass Heads - Beat Conductor