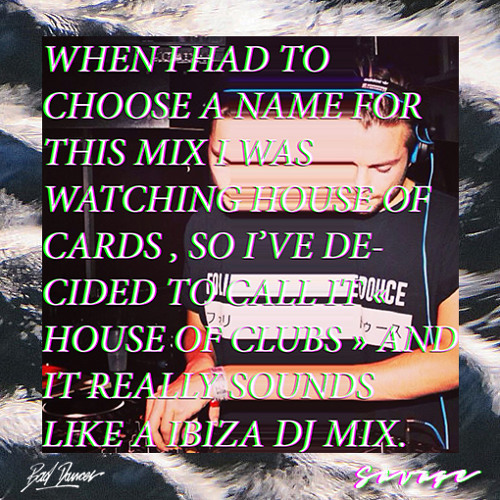 Tracklistings Mixtape #165 (2015.03.23) : Bad Dancer by Tracklistings on Mixcloud
Tracklistings Mixtape #165 (2015.03.23) : Bad Dancer - When I had to choose a name for this mix I was watching House Of Cards , so I've decided to call it House Of Club and it really sounds like a Ibiza dj mix
Bad Dancer is one of the most promising talents of the new Belgian techno scene.
Only 22 years old but he is already an entertainer of the dancefloor with his special but powerful energy in his mix. He did the most biggest festivals in Belgium (Tomorrowland,Dour Festival, Les Ardentes Festival,...) and he killed the Social Club and Wanderlust in Paris.
You will travel from Berlin to Ibiza in a few minutes with his Techno and House mix. His first Perpendicular EP was played and approved by Brodinski, Digitalism, Sound Pellegrino Thermal Team and his remix for Birdy Nam Nam or Sebastien Tellier surprised everyone!
In 2013 he released his 2nd ep Silence and the feedbacks from Strip Steve to Brodinski were all awesome...
I urge you to keep an eye on Bad Dancer.
Follow Bad Dancer :
RA : http://www.residentadvisor.net/dj/baddancer
Facebook : https://www.facebook.com/BadDancer
Twitter : https://twitter.com/effixBadDancer
SoundCloud : https://soundcloud.com/bad-dancer
Tracklist :
01. Intro
02. Madame - Shuffle (Chambray Remix)
03. Duke Dumont - Mumble Man (Vakkuum Remix)
04. Duke Dumont - Slow Dance
05. Claude VonStroke - Eye I Eye
06. Jimmy Edgar - Decalcify
07. Deapmash - Symptom (Chambray Remix)
08. Jimmy Edgar - Walk Show ft. Dj Rashad
09. Audiojack - Stay Glued ft. Kevin Knapp
10. Woz - Cherry Hill ft. Max Marshall (Original Mix)
11. Brodinski - Bury me ft. Maluca & Bricc Baby Shitro
12. Boys Noize - Excuse Me (Club Cheval Remix)
13. Djedjotronic - Mongolito
14. DJ Dodger Stadium - One who lost
15. ZDS - Rude Girl (Original Mix)
16. Kiwi - The Mara (Duke Dumont Remix)
17. Chambray - Work that (Original Mix)
18. Cajmere - Show you
19. Maelstrom & Louisahhh - Friction (Original Mix)
20. BS1 - Delivery Tool
21. Myd & Para One - Brooklyn
22. Duke Dumont - Drumapella
23. Brodinski - Need For Spee ft. Louisahhh & Bloody Jay
24. Gangsta Boo - Beatking Mashing (Produced By Brodinski)
25. D.I.M. - The Screamers (Original Mix)
26. Chambray - Ghetto Giants (Original Mix)
27. Daryl - Computer
28. RYME - Pussy (Don Rimini Remix)
29. A.N.D.Y. - I'm Housin'
30. Claptone - Wrong (Original Mix)