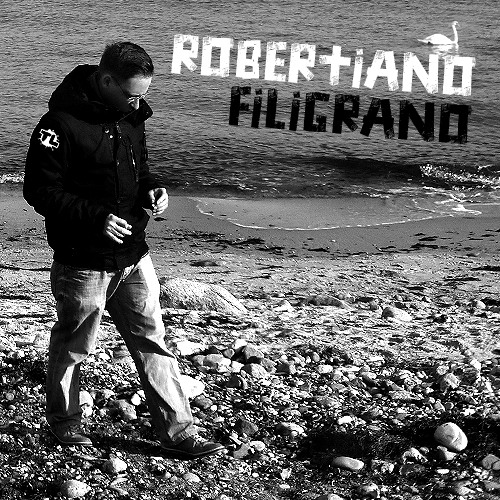 Tracklistings Mixtape #153 (2014.12.29) : Robertiano Filigrano by Tracklistings on Mixcloud
Mr. Filigrano is a techno-electro producer from Germany who is influenced primarily by Anthony Rother and Jeff Mills. Already in his early years, music was always his deepest passion. He developed early the love to the electronic music and started his DJ career in the year of 2000 (then under the artist name "Tyren Tyrell"). Robertiano celebrated his first dj successes on various techno open airs and partys, but with the time he felt once more the feeling to produce his own music (followed with remixes for artists like Risto, Dj Paul Edge, Vin Nuel, Pablo Talasso or Ludwig).
Today Robertiano Filigrano is not only a dj and producer, he is in addition the
art-director and label founder of his electronic music labels "Filigrano Recordings" and since 2014 "RF.Tekx".
>>> OUT NOW: His brand new compilation "Underground Trakx Vol.01" [RF.Tekx | rftx002] with 29 of the best and finest Techno/Tech-House-Tracks and Remixes from artists like Florian Meindl, Angy Kore, Pig & Dan, Meiko, Space Djz, Risto, Eric Sneo, Robertiano Filigrano, Eric Heydenfeld, Timo Huehner, Adam Kalkbrenner, Cristian Varela, Vic Miranda, Franco Forest, Lester Fitzpatrick and many more ... Enjoy the real sound of the Underground!
Robertiano's productions are supported, played, charted by national and international artists like Paco Osuna, Dave Clarke, Risto, Davide Squillace, Johan Sebastian Bot, Dj Paul Edge, Anderson Noise, Luciano, Dj Beppi, Laris Maker or Andrew Duke.
Follow Robertiano Filigrano :
SoundCloud : https://soundcloud.com/robertiano_filigrano
Facebook : https://www.facebook.com/rf.tekx
Facebook : https://www.facebook.com/RobertianoFiligrano.Official
Beatport Djs : http://dj.beatport.com/robertianofiligrano
Beatport : http://www.beatport.com/artist/robertiano-filigrano/157592
Discogs : http://www.discogs.com/artist/1963019-Robertiano-Filigrano
Mixcloud : http://www.mixcloud.com/filigrano_mixes
For the full Tracklist : try to guess it or wait until 500 plays!
Tracklist :
01. Tony Dee - The Darkness Inside Me (Gabriel D'Or & Bordoy Remix) [Play My Track Recordings]
02. Ben Sims - Smoke & Mirrors (Jerome Sydenham's Carbon Dub 2013) [Drumcode]
03. Todd Terry pres. Royal House - Crazzzy (Tee's Royal House Mix) [Inhouse]
04. Blake Baxter - Resist The Silence [Mix Records ]
05. Chris Page - Counterfeit Innovator (Chris Finke Remix) [Decoy Records]
06. DJ Hi-Shock - Darkness Below (The Blunted Boy Wonder Remix) [Gynoid Audio]
07. David Carretta & Workerpoor - Crash [Zone]
08. Koova - Unrealised [Crobot Muzik]
09. Uto Karem feat. Eddie Amador - Music In Speakers [Agile Recordings]
10. Alex Under - El Encuentro (Richie Hawtin Edit) [Minus]
11. Jeff Mills - Automatic [Purpose Maker]
12. Abe Duque & Blake Baxter - Let's Take It Back (Joey Beltram Remix) [Process Recordings ]
13. David Meiser - Rise of the Machines (Elektrabel Remix) [Physical Records]
14. Stakko feat Robertiano Filigrano - Simple As That (Edit) |Filigrano Recordings]
15. Space Djz - 5th Parallel [RF.TEKX]
16. Vic Miranda - Loopy Bell (Cristian Varela Remix) [RF.TEKX ]
17. Jeroen Search - Ad Infinitum [Decoy Records]
18. Joris Voorn - Sweep The Floor [Rejected]
19. Oliver Huntemann - La Boum [Confused Recordings]
20. Smilla - Play (Worakls Remix) [Harthouse]
21. The Advent, A.Paul - Veron (Luis Flores Remix) [Onh.Cet Records]
22. Markantonio & Roberto Capuano - Pearl [Unrilis]
23. Little Nobody - The Thin Flan (Chris Finke's Rave Remix) [Gynoid Audio]
24. Todd Terry & House Of Gypsies - Samba (Matteo DiMarr's Big Drum Remix) [Inhouse]
25. Stinkworx - Calamari (DJ T. Edit) [Get Physical Music]
26. CPU - Mastermind [Solar One Music]