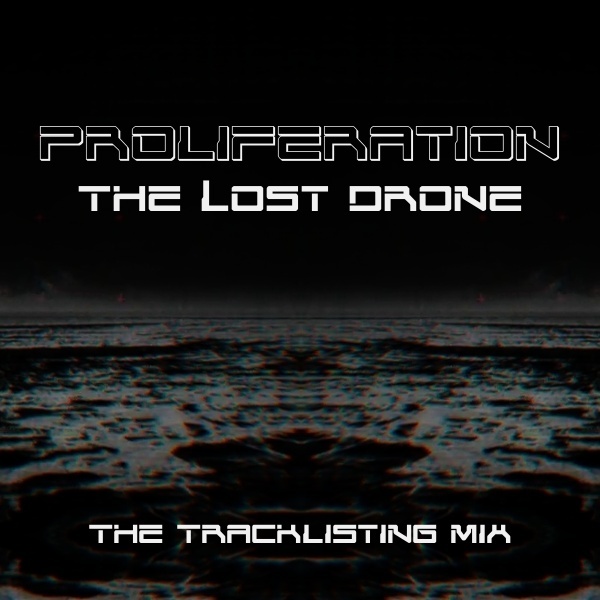 If you are a fan of Electro Bass : the 130th Tracklistings Mixtape by Proliferation is for you !!!
Tracklistings Mixtape #130 (2014.09.23) : Proliferation - The Lost Drone by Tracklistings on Mixcloud
Cory Hernandez A Graphic Artist / DJ / Producer seeking A darker approach of Electro/ Industrial / and other forms of Electronic Music for the Future. (a.k.a.) Inhuman Designedhas always been an artistic person.
Having great painters and artist like his mother and great grandfather, creativitycame natural for him. He started his journey through music at a young age.
Listening to various Rock and other record albums in his Mothers Collection which opened a path for the love of music in all its forms.
Many years would go by before Cory stumbled upon the Electronic Music Scene in the late 90s. Through various underground Raves and party's throughout Florida. It was there he found the Energy through a means of sound that has effected him like no other music has. Listening to a lot of the Industrial, Breaks, House, Hip Hop, Drum & Bass genres and anything else he could get his hands on. Cory found a lust in Electro. Growing up as a kid of the 80's and 90's & being a fan for all things science fiction. Electro struck him as a sound that was most fitting for his background. Collecting records and DJjing with friends through out the Central Florida area for years, Cory developed the name Proliferation ..(meaning to spread rapidly). Prolif for short, started learning the ways of Producing music.
DJing now for over 12 years, Prolif had found a friend who had the same love for electro as he did. Ryan Phillips (a.k.a) Kounterakt (half of Code Rising), took Prolif under his wing as both were booked for multiple shows Djing along side each other all over Florida.
It was then that Kounterakt became Prolif's mentor and showed him the art of production and the making of original music. Working together side by side in the studio with friends like JR10 & Lethal Agent from (Analog To Future), Prolif started learning how to produce Electro.
Kounterakt & Prolif went on to release the "Destroy the Peace" & "Anti-Life" along with JR10 forming SOS (a.k.a) Society of Sin to release "The Robotic Throwdown Ep"
After almost 2 years learning from his mentor in 2010 Prolif moved forward to evolve into Inhuman Designed (a.k.a) ID for short. Focusing on his production and writing of darker forms of Electro & Industrial Bass from his influences of the past and present. ID has started his solo work in writing & producing music.
Through Scifi Imagined Tones,Obsolete Robotic Machines,Industrial Landscapes, and overall Evilness ID started getting attention in a very short time in the Electro Scene.With Releasing Music for such labels as Access Tonal Communication,Divine Disorder Records,CHP Recordings and Mars Frequency Records ID has worked with some of the best and talented arists in the scene from all over the world.Recently joining forces now with Legendary Label and owner of Frajile Recording James Wolfe & Scratch-D of "Dynamix II" along with Phonotronix and Brice Kelly on "The Conversion EP"
With many projects in development,ID shows No signs of slowing down but rather signs of improving and trying new things in electro to develop a diverse sound of his own.
Follow Proliferation :
SoundCloud : https://soundcloud.com/inhuman-designed
Facebook : https://www.facebook.com/InhumanDesigned
Bandcamp : http://inhumandesigned.bandcamp.com
hearthis.at : https://hearthis.at/inhumandesgned
Tracklist :
01. Boris Divider / A.T.F. - Atractor / Command Breakout [Mashup]
02. Anthony Nuzzo / Phonotronix - In the Zone / In-sub-or-di-nate [Mashup]
03. Ghosts in the Machine - There is no Tomorrow [ID's Phono Edit Mashup]
04. GROW - Electronik Milk (Ohverclock Remix)
05. Phonotronix - On the Front
06. Code Rising / Bass Kittens - Unforgiving Force / You must find Strength [Mashup]
07. Hardfloor / Secret Frequency Crew / Phoenecia - P.E.L.F.(Hardfloor vs. DBS feat. The Egyptian Lover) / Miami Eyes (Andrea Parker Remix) / Y-intercpnkt [Mashup]
08. Illektrolab - Super Komputer
09. Illektriss - Reign of Robots (Ghostlight Remix)
10. Trip Theory / Inhuman Designed - Bring it Low [Ghostlight Bootleg Rmx] / Ancient Evil [Ghostlight 2K14 Remix] [Mashup]
11. Ascension Electronique / The Hidden Persuader / - Conception [Dexorcist Rmx] / Specialise [Mashup]
12. Inhuman Designed / Dynamix II - G.F.T.C. part 2 [Romplex Rmx] / Atomic Age [Mashup]
13. Code Rising - Death of 1000 Kilobytes