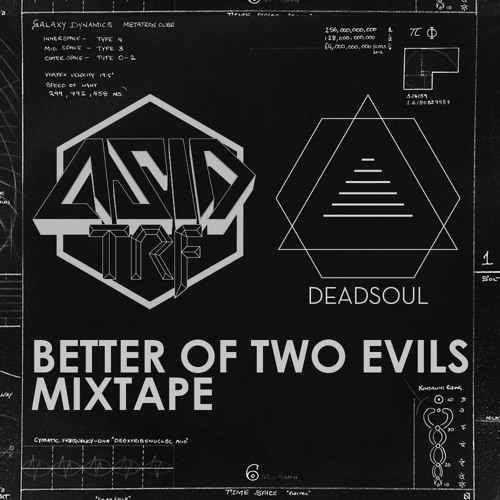 For the 120th Mixtape, Tracklistings presents another exclusive collaboration between Asid tRf & Deadsoul for "Better Of Two Evils Mixtape" !!!
Tracklistings Mixtape #120 (2014.08.05) : Asid tRf & Deadsoul - Better Of Two Evils Mixtape by Tracklistings on Mixcloud
Asid tRf :
Facebook : www.facebook.com/asid.trf | www.facebook.com/asid.trf.universe
SoundCloud : https://soundcloud.com/asid_trf
Mixcloud : www.mixcloud.com/asid_trf
hearthis.at : https://hearthis.at/asidtrf
Based in Amsterdam,born in Patras,Greece,his first contact with music starts at his early age.He used to spend many hours listening to records and processing mixers and consoles in the record shop which held by his father.A house mixed tape,given from his older cousin as a present,introduced him in the world of electronic music.The unique sounds and the lifestyle of electronic music,into a preservative environment in Greece,didn't deter him from collecting and discovering new sounds.Today his music is strightly underground techno and electro,with influences from oldschool and acid sounds,mixed with full effects techniques.
Deadsoul :
Soundcloud : http://soundcloud.com/deadsoul-music
Facebook : http://www.facebook.com/deadsoul.music
Contact/Booking/Requests : deadsoulmusic@gmail.com
Deadsoul seeks to break all musical concepts, combining the best of styles like techno, darkwave, new wave, synth, industrial and others, to create a different sound.
They are currently composing their second EP, a new video clip, and the creation of their first audiovisual live show.
Tracklist :
Asid tRf
01. Black Asteroid - Metal (Pinion Version) (Electric Deluxe - edlx.036)
02. Perc - Take Your Body Off (Perc Trax - TPTLP005)
03. David Meiser - Who Controls (Nachstrom Schallplatten - NST083)
04. Robert Armani - Blow That Shit Out (Joey Beltram Remix) (ACV - ACVDP 013)
05. Delko - Acid Bunger (Propellant Music - PM029)
06. Trade - Positive Neckline (Works The Long Nights - SHEWORKS005)
07. Dj Slugo - Slugmere (Dance Mania - DM 096)
08. Rebekah - Suicide Mind (CLR - CLR067)
09. Dj Funk - Pump It Up (Dub Mix) (Dance Mania - DMR 1003)
10. Energun - Boost (Gabeen Remix) (Darknet - DARKNET035D)
11. David Meiser - Breaking The Wall (Nachstrom Schallplatten - NST083)
12. Ynfynyt Scroll & Vjuan Allure - Drone Warfare (Vjuan Allure Remix) (#FEELINGS - FEEL008)
Deadsoul
01. Bas Mooy - Thood
02. Balthazar & JackRock vs Hakan Ludvigson - Meinungen Mussen Frei Sein (Angy Kore Remix)
03. Deadsoul - T-101
04. Brodinski - Let The Beat Control Your Body (Maelstrom & Louisahhh!!! Remix)
05. Terence Fixmer - The Fog
06. Hystericmaniak - Poison (Hackler & Kuch Remix)
07. Terence Fixmer - You Want It (Destroyer Bootleg)
08. HxV - Flood