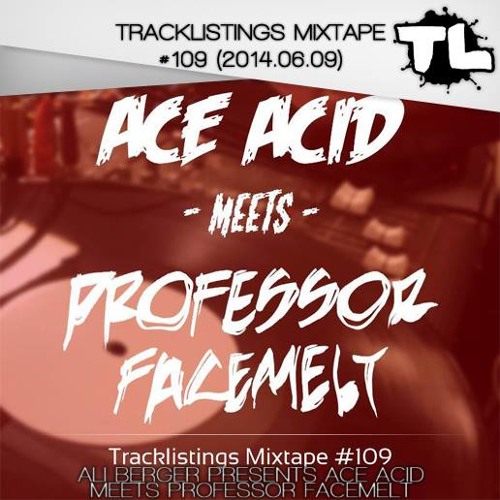 Ali Berger is a producer/DJ from Boston, MA. He creates and plays a diverse range of music, from funk and disco to full-on techno, all grounded in the fundamentals laid down by dance music originators. You can find Ali's releases on Paul Blackford's Militant Science label, Boston's Zakim Recordings, and more outlets soon...
Follow Ali Berger :
Bandcamp : http://aliberger.bandcamp.com
SoundCloud : https://soundcloud.com/aliberger
Facebook : http://facebook.com/alibergermakesmusic
Twitter : http://twitter.com/abergermd
MySpace : http://myspace.com/alibergermakesmusic
Tumblr : http://timespacescrilla.tumblr.com
YouTube : https://www.youtube.com/user/alibergermusic
Ace Acid side
01. Mr. Marimba - Marimbeats
02. Farley Jackmaster Funk - One Trac Mind
03. Polarius - Pump The Box
04. Hieroglyphic Being - How Wet Is Your Box?
05. Omar S - Ready My Black Asz
06. Steve Poindexter - I Need A Freak
07. Delta Funktionen - Low Jam
08. Hysterics - Pleasuredrome
09. Ali Berger - WKL
Professor Facemelt side
01. 2AM/FM - Acid Planes
02. K-Hand - These sounds lead the way
03. Oscar Mulero - Simulated Visibility
04. Chris Moss Acid - Slam The Box
05. Exium - Dunna
06. Uncouth Youth - BBoy On Da Rocks
07. Nukubus - Europa (Aux 88 Detroit Mix)
08. The 15 Dead Minutes - Children of the 303