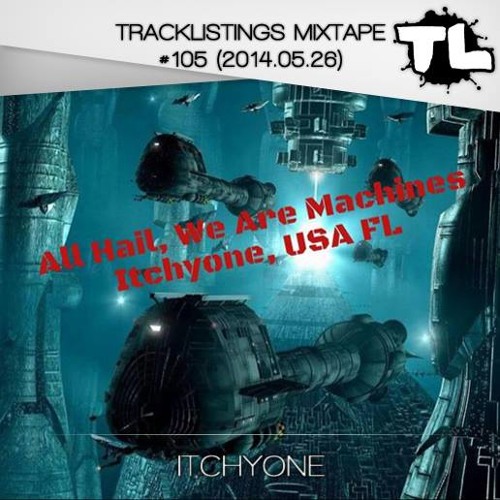 For the 105th exclusive Tracklistings Mixtape, Gina Raquel has worked hard in her studio 3 days to record this Electro Mix Live using Traktor Scratch 2 turntables and a shitty ass mixer !!!
Born in Los Angeles, California is where Itchyone had started her journey into sound. She began her love for music at a young age. She requested from her parents to learn to play the piano. By the age of 5, she was competing regularly with children twice her age.
In 2000, She had moved from Los Angeles, California to Sarasota, Florida. Despite her being the new kid on the block. She quickly made friends and dove straight into what was left of the underground local scene. Being from California, she had never heard of Miami Bass or Florida break beats for that matter. This new sound was a breath of fresh air for her. The local scene had consumed her. In 2006, she had developed her flow and style from a local underground dj now known as KillNM. She has performed with and has grown side by side with some of the greatest acts out of FL. Itchyone has a passion for music and great respect for the art. Never would you ever consider Miss Itchyone "candy" I would call her more of a Bass Head.
"Keep it Real, Keep it Wicked, Keep it Underground. That's where the Real Electro lives anyway."
-Itchyone
Follow Itchyone :
SoundCloud: https://soundcloud.com/itchyone11
Facebook: https://www.facebook.com/pages/Itchyone/195076811662
Tracklist :
01. Hydraulix - Bounce
02. Kounterakt & Prolif - AntiLife
03. Digital Artillery feat. DJ Security - Greedy Bitches
04. Exzakt - My Heart Is In Miami
05. GROW - 4 My Hommiez
06. Supreme.ja - Basstronic (Artificial Humans RMX)
07. Kraftwerk - The Robots (AudioBotz Remix)
08. Code Rising feat. Prolif - Advanced Chaos
09. Synthetik Bass Squadron - Robots Collide
10. Ohverclock - Suffercate
11. Path Changer - Harmonic Disrupters
12. EVO - Fabricated Stimuli
13. uNDEAD dESIGNED - Terror Salts