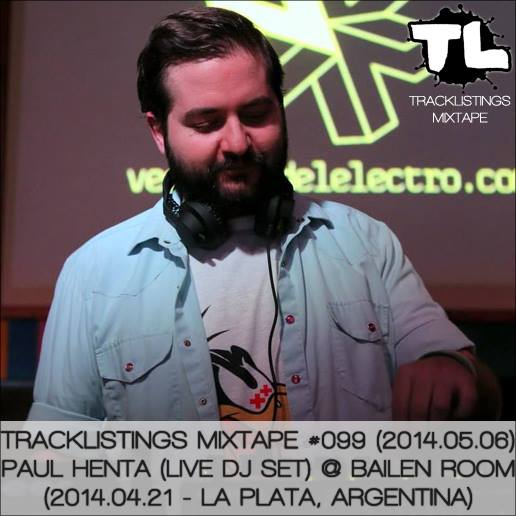 Paul Henta: Anthropologist by day, DJ by night, from La Plata, Buenos Aires, Argentina, who since 2008 which launched the world's Dijing and never stopped. Future Techno and Electro Techno are the sounds that he mix live. Want to know who Paul Henta is? The best way is to listen to this mixtape
Follow Paul Henta :
SoundCloud: http://soundcloud.com/paulhenta
Facebook : http://www.facebook.com/IamPaulHenta
Website : http://www.vecindaddelelectro.com
Twitter : http://twitter.com/PaulHenta
Bailen Room : https://www.facebook.com/bailenroom
For the full Tracklist : try to guess it or wait until 500 plays!
01. ID
02. ID
03. ID
04. ID
05. The Subs & John Roman - The Mouth [Lektroluv Records]
06. ID
07. ID
08. ID
09. ID
10. ID
11. ID
12. ID
13. ID
14. ID
15. ID
16. ID
17. ID
18. ID
19. ID
20. ID
_________________

TRACKLISTINGS SOUNDCLOUD ♪ ılıll|̲̅̅●̲̅̅|̲̅̅=̲̅̅|̲̅̅●̲̅̅|llıl : http://soundcloud.com/tracklistings2-0