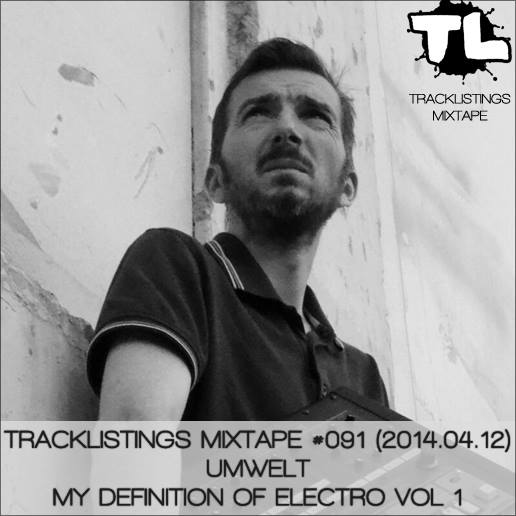 Coming from the Rave scene in Lyon in the early 90's, Umwelt made his first victims on the
dancefloor of numerous warehouses in France. In 1997, he releases his first productions. Combination of analogue rhythms and sounds, his music creates gloomy and electric atmosphere propelling the listeners into abyssal worlds.
So far, he has written three albums and about twenty EPs on labels such like Satamile Records, Drivecom, Kommando 6, Minimum Syndicat... In 2010, he launches his own electro imprint Newflesh Records along with Chris Nexus 6 for the visual part.
On stage, Umwelt remains faithful to the sound of the machines. His setup is exclusively built up around hardware gears, he finds them more attractive and sexy. As a DJ, he shares with his
crowd twenty years spent to explore record shops and dancefloors.
Follow Umwelt :
Website :
http://www.newflesh-records.com
Facebook :
https://www.facebook.com/pages/UMWELT/194569466037
SoundCloud :
http://soundcloud.com/umwelt-music
Bandcamp :
https://newfleshrecords.bandcamp.com
Resident Advisor :
http://www.residentadvisor.net/dj/umwelt
YouTube :
https://www.youtube.com/user/myvinyl69
For the full Tracklist : try to guess it or wait until 1000 plays!
01. ID
02. ID
03. ID
04. ID
05. ID
06. ID
07. ID
08. ID
09. Heliopause - Subtransmission [Robotmachine Records]
10. Computor Rockers - Computor Interface (RS232) [Breakin' Records]
11. Anthony Rother - Destroy Him My Robots [Elektrolux]
12. Middle Men - Space Quest [Dominance Records]
13. Djedjotronic - Abyssal Zone [Zone]
14. ID
15. Model Citizens - Drive [Fdb Recordings]
16. The Egyptian Lover - Keep It Hot (Re-mix) [Egyptian Empire Records]
17. ID
18. Boris Divider - Electronics 3 (Miami Sytle) [Drivecom]
19. Umwelt - ID [Newflesh Records]
20. ID
21. ID
22. ID
23. ID
24. ID
25. ID
26. ID
27. ID
28. ID
29. i-f - I Do Because I Couldn't Care Less... [Disko B]