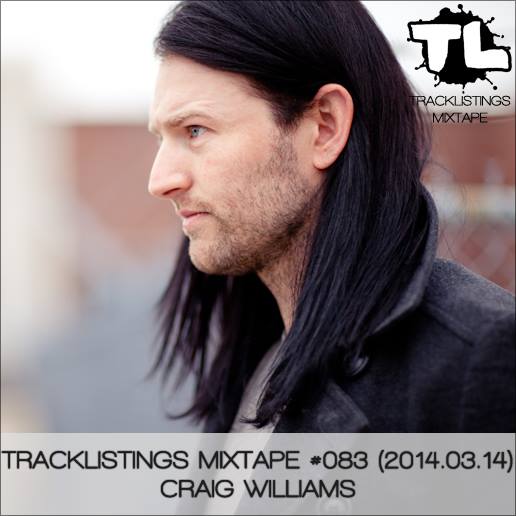 With limitless energy, his trademark mane of jet black hair, and a passion for all things underground, Craig Williams has quickly built himself reputation as a musical tour de force both behind the decks and in the studio.
Hailing originally from Australia, Craig grew up playing bass and began DJing and producing 11 years ago. Taking a wild detour from music, Craig spent several years working as a Black Hawk helicopter crewman in the Australian Army, which saw him deployed to Pakistan and East Timor. After his Army tenure came to a close, Craig held a residency at the popular Full Moon events in Queensland. With the desire to continue honing his music craft strong, he moved to Los Angeles, where he enrolled in the SAE Institute and earned a degree in audio engineering.
In recent years Craig has continued to shift the gaze of the industry in his direction. His deft ability to produce both gritty banging electro and underground techno has opened many doors for him, with releases and remixes for notable labels such as Dim Mak, Motorik, Relief, Perfect Driver, and many more. 2013 saw Craig release an EP with Bromance starlet Louisahhh!!!, as well as "Paradise," a Beatport-charting collaboration with Chicago luminary Green Velvet which appeared on the legend's recent full length album Unshakeable. Craig has also made an immediate impact with his skilled DJ sets, delivering memorable performances at Chicago's legendary Lollapalooza, EDC in Las Vegas, and main stage slots at renowned club nights such Control Fridays at Avalon in Hollywood and Porn & Chicken at Evil Olive in Chicago. With forthcoming releases lined up on Sweat It Out and Discobelle, as well as collaborations in the pipeline with Gunrose, Sharooz, and Jencen Interceptor, 2014 is quickly shaping up to be a breakout year for Craig Williams.
Follow Carl Craig :
Website : http://www.craigwilliamsmusic.com
Facebook : https://www.facebook.com/craigwilliamsmusic
Soundcloud : http://soundcloud.com/craigwilliamsmusic
Twitter : http://twitter.com/craigjwilliams
YouTube : https://www.youtube.com/craigwilliamsmusic
Tracklist :
01. Go Freek - We Can Ride (Craig Williams Remix) [Sweat It Out]
02. Louisahhh & Maelstrom - Night Clubbing [Bromance]
03. Craig Williams - Saw Throat [Club Sweat]
04. Monsieur Monsieur - Lucid (Jimmy Edgar Remix) [Bromance]
05. Phil Kieran - Going There [Hotflush Recordings]
06. Danny Daze - When The Freaks Come Out [Ultramajic]
07. Word Life - Club Strobe (CSMNT61 & Jensen Interceptor Remix)[Motorik]
08. Deapmash - Meters (TWR72 'Break It' Remix)[Black Nite]
09. Hoshina Anniversary - Extra [BNR Trax]
10. French Fries - Bug Noticed [ClekClekBoom Recordings]
11. Harvard Bass ft Green Velvet - Bucket Boys [Relief Records]
12. Aden - Work [Ultramajic]
13. Francis Xavior - We Got It (Eskimo Twins Remix)[Motorik]
14. Boddika - Acid Jackson [Swamp 81]
15. Craig Williams - 100 MTC [Club Sweat]
CRAIG WILLIAMS - The Saw Throat EP
Available via Sweat It Out Music Friday March 7
Hunter S Thompson once said, "The music business is a cruel and shallow money trench, a long plastic hallway where thieves and pimps run free, and good men die like dogs."
The Saw Throat EP is almost here on Sweat It Out and it's good. Really good. The title track is a creeper, it sounds deep but play it in the club and you will see - it bangs pretty good too. The B side, 100 MTC is a more reserved but equally effective little guy, it's like both tracks went to the same gym, but one was training for the heavyweight title and the other, training for the middle weight crown.
Listen to both and you will probably know what we mean, and also where the the EP name comes from.
Already Supported By: Claude VonStroke, Crookers, Yolanda Be Cool, Sharooz, Sinden, CRNKN, Astronomar, Beataucue, Nick Catchdubs, RUFUS, and More.
Released by: Club Sweat
Release/catalogue number: CLUBSWE009
Release date: Mar 7, 2014