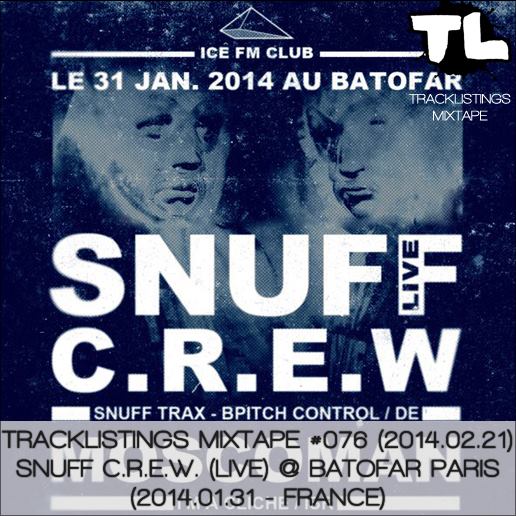 We are really proud to present you the 1st Tracklistings Mixtape from a live recording : Snuff Crew (Live) @ Le Batofar (2014.01.31 - France)
SNUFF CREW LIVE (SNUFF TRAX - BPITCH CONTROL / DE)
https://www.facebook.com/events/801179353231507
Jacking the house since 2008!
Snuff Crew is a mysterious project from Germany and it's all about jacking. Their tracks and remixes bring passion and fun back on the dancefloors.
Find Snuff Crew stuff on labels like Snuff Trax, BPitch Control, Killekill, SCI+TEC, Skylax, International Deejay Gigolo, Playhouse, Rush Hour, Nature Records and many more..
The guys have already teamed up with legendary artists like Robert Owens, Tyree Cooper, Kim Ann Foxman, Hard Ton, Rachel Row and many more. In 2010 they launched their own label Snuff Trax. With their jackin live shows the duo is
touring around the globe. Snuff Crew already played in world-famous venues like Berghain (Berlin), Womb (Tokyo), Solyanka (Moscow), Batofar (Paris), Pratersauna (Vienna) and on amazing festivals like Wire (Yokohama).
In October 2013 the third Snuff Crew album "Behind The Masks" will be released on BPitch Control.
If you like to book Snuff Crew live or a solo liveset by Snuffo (Snuff Trax) please get in touch with james@sweatlodgeagency.com
The German duo Snuff Crew was invited to play live to celebrate the release of their new album "Behind The Mask" on the Berlin label BPitch Control. Present on Gigolo Records, Rush Hour, Playhouse, Killekill or their own Snuff Trax label, the masked duo competes expertise to revisit his way to the Chicago House repertory and garage.
Their show promises an ultra energetic and irresistible acid and early house!
Out now on Snuff Trax: Snuff Trax 009-C: Various Artists "The Dream" including tracks by 7 Citizens, Andreas Gehm, Basic Soul Unit and Violet https://clone.nl/item30215.html
Follow Snuff Crew :
Website : www.snuffcrew.com
Soundcloud : https://soundcloud.com/snuffcrew
Facebook : www.facebook.com/snuffcrewofficial
Twitter : https://twitter.com/snuffcrew
BPitch Control : www.bpitchcontrol.de/artists/snuff-crew
Snuff Trax : http://soundcloud.com/snufftrax
Release date: Jan 31, 2014