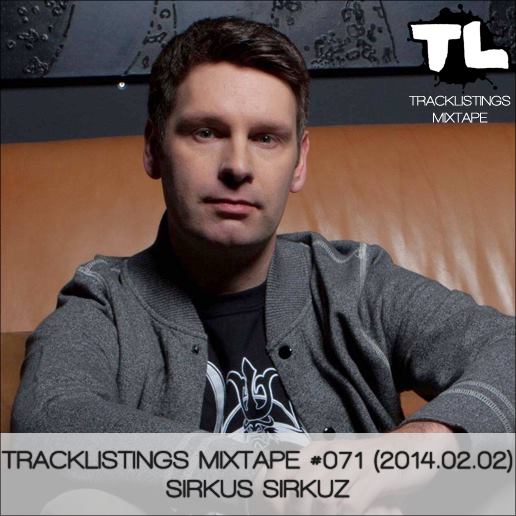 Tracklist :
01. Sirkus Sirkuz - 'Credence' [CDR]
02. S-File - 'Jack Your Body' [GND Records]
03. Peaches - 'Burst (Bart B-More Mix)' [BNR]
04. Costello - 'Pegasus' [BNRTRAX]
05. Zombie Nation - 'Fishtank (Turbo Turbo Mix)' [UKW]
06. Panteros666 - 'F16 Baby' [Bromance]
07. Boys Noize - 'Starwin' [BNR]
08. LPP - 'Priapism' [Bad Life]
09. Steve Angello - 'Alpha Baguera' [Size]
10. Nitemode & Sirkus Sirkuz - 'Ravival' [CRUX]
11. Ego Troopers - 'Polar' [Blood Music]
12. Bart B-More - 'The Box' [Secure]
13. Sirkus Sirkuz - 'Plastic Explosive' [9G Records]
14. Henzel & Disco Nova + NT89 – 'Black Desert' [Teenage Riot Records]
15. Boys Noise – 'XTC (Take Me High) – Sirkus Sirkuz Bootleg Edit' [BNR]
After spending the last 14 years touring the world playing the biggest clubs and festivals as part of The Japanese Popstars and Hedrock Valley Beats; Decky Hedrock decided to go back to his roots and create a new live act called Sirkus Sirkuz.
BBC Radio 1 – "Massive"
A collection of all his musical influences, Sirkus Sirkuz is a versatile move for the dancefloor, creating electronic monsters with old school references and sounds, receiving support from a diverse selection of the worlds largest DJs including Fake Blood, Benny Benassi, Dr Lektroluv, Steve Aoki, Leftfield, Crookers, Digitalism, Zombie Nation and many more.
DMC World Magazine - "One of the UK's most exciting new producers"
DJ Mag - "Delicately Devastating"
With an impressive back catalogue of critically acclaimed releases over the years, including remixes for such high profile artists as Beyonce, Depeche Mode, Kylie, Ash, Gorillaz and more, as well as having previous major chart success in various countries including a No.1 in Australia, a National Airplay No.1 in the USA and other Top 30 chart hits with various releases as Hedrock Valley Beats in the early 2000s, Sirkus Sirkuz is seen as a continuation of Deckys prolific music career.
The Daily Star – "On fire"
Over the last year GND Records, 9G Records, CRUX Records, Hottwerks and Rocstar Recordings have been label hosts to a constant stream of Sirkus Sirkuz releases which have climbed high in various DJ and dance music retailers charts. A consistent pattern of releasing at least one track, remix, collaboration or EP per month in 2013, allowed him to gain more profile to build this new project up from the ground and support from the national radio stations like BBC Radio 1, 2FM, XFM and more. Also, employing a bold move, to successfully collaborate with his fellow artists and peers, such as March Against, Shadow Dancer and Peter Silbermann to create a series of "Versus" EPs that push the dance music genre boundaries further.
Hotpress – "One of our fave producers"
Mixmag - "Sirkus Sirkuz specialises in beats aimed straight at the dancefloor"
Not just wanting to be another DJ, he has also been building a reputation as a 'must see' live act, as Decky has brought a blistering live show to the clubs and festivals yet again proving his lineage. Playing a select number of gigs in 2013 and then having been asked back to play those venues again due to public demand solidifies that. Coming from a live background based around performances with keyboards, samplers and other electronic gadgetry gives an advantage over a scene which is made up of DJs.
Beatsmedia – "This will blow your f**king speakers"
Eddy Temple Morris (XFM) - "Mesmeric New Project"
So, after all that we still have not found out what the name means? "Essentially, its the combination of Norwegian and Latvian spelling for the famous 'Circus Circus' hotel in Las Vegas. I liked the idea of naming myself after the hotel there but wanted it to look different, in some weird way. So I thought of the different phonetical ways to spell "circus" and I also liked the notion of how these new spellings translated into different languages. In fact, looking back I don't think I could actually spell the name correctly myself for about 2 weeks, after coming up with it!" laughs Decky.
DJ Mag (ES) - "Rising star of the Electro scene. A producer from now on we'll be keeping an eye on"
DISCOGRAPHY:
Crossfaders feat. Chuckie Campell – 'Four Elements (Sirkus Sirkuz Mix)' on 9G Records
Run Riot – 'Lose Yourself (Sirkus Sirkuz Mix)' on Skint Records
Sirkus Sirkuz – 'Rapier' on 9G Records
Moorr – 'Spaceboy Goes To Vegas (Sirkus Sirkuz Mix)' on 9G Records
Sirkus Sirkuz – 'Plastic Explosive' on 9G Records
Sirkus Sirkuz – 'Little Rodent' on 9G Records
Sirkus Sirkuz – 'Telefunk' on 9G Records
Shadow Dancer Vs Sirkus Sirkuz – 'Build / Use' on GND Records
Replicants – 'ETA (Sirkus Sirkuz Mix)' on Psychonavigation Records
Shane Fontane – 'All I Need (Sirkus Sirkuz Mix)' on 9G Records
Sirkus Sirkuz – 'Forgiveness' on Soundcloud
Shadow Dancer Vs Sirkus Sirkuz – 'Build / Use REMIXED' on GND Records
4 Quarters Boyz – 'Future (Sirkus Sirkuz Mix)' on Crux Records
Sirkus Sirkuz feat. Deci Gallen – 'Break The Silence' on Hottwerk Records
Sirkus Sirkuz Vs March Against feat. Wyldling - 'The Tempest'
A Plastic Rose – 'Kids Dont Behave Like This' on Di Di Mau Records
Tijuana – 'Heaven Bound"' on Roc Star Records
Sirkus Sirkuz - 'Trouble Bug' on CRUX Records
Maud In Cahoots - 'Dance With Me (Sirkus Sirkuz Mix)' on TBA
Peter Silbermann Vs Sirkus Sirkuz - 'Keep On Giving' on Roc Star Records
Sirkus Sirkuz - 'Ass Boogie' on 9G Records
COMING SOON:
DPPLGNGRS - 'Poindexter (Sirkus Sirkuz Mix)' on Afro Acid Trax
Sirkus Sirkuz - 'Annihilating Rhythm ' on 9G Records
Unique 3 - 'Feels All Good (Sirkus Sirkuz Mix)' on Rocstar Records
Nerd Flanders - '06 02 (Sirkus Sirkuz Mix) on MTWAT
Adam Schock & Ed Liner - 'Heart (Sirkus Sirkuz Mix)' on
SOUNDCLOUD: http://soundcloud.com/sirkus-sirkuz
TWITTER: http://twitter.com/SirkusSirkuz
MERCHANDISE: http://sirkussirkuz.dizzyjam.com/
MYSPACE: http://new.myspace.com/sirkussirkuz
For Publishing details contact:
EMI Music Publishing
30 Golden Square
London,
W1F 9LD
Tel +44 203 206 1170
Social Media Links:
SOUNDCLOUD: http://soundcloud.com/sirkus-sirkuz
FACEBOOK: http://www.facebook.com/SirkusSirkuz/
TWITTER: http://twitter.com/SirkusSirkuz