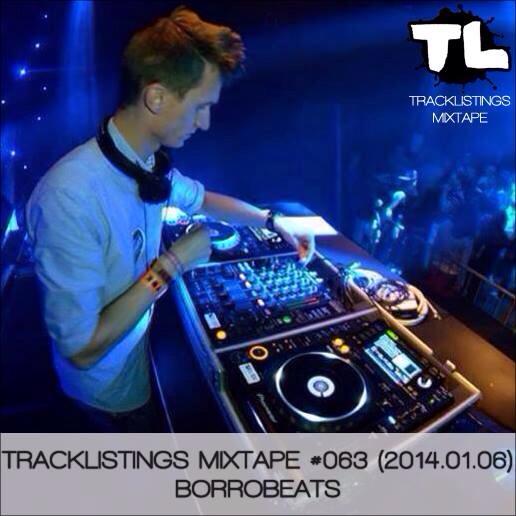 If you are in the game and haven't heard of this guy you must have been living between caves for the past 3 years. BoЯRoBeats aka Robbe Zutterman is a 20 year old deejay and producer from Ghent, Belgium. He has helped many rising artists at the start of their career and has impeccable taste when it comes to music - He knows his stuff and always ensures his mixes are full of the best new music and top class style. BoЯRoBeats is known for his blend of several music genres. He mainly plays electro, techno, progressive house, dutch house & heavy bass.
He made exclusive mixtapes for several (inter)national blogs as Electro News, DJ Set of The Week, Party Sounds of Belgium, Metalectro, The ECHO Show, Vecindaddelelectro, MadTitMusic,…and a lot more! But his mixtapes did not only reach the blogs. BoЯRoBeats has had his mixtape 'Bang It To The Floor' played on the UK radio brap.fm and he has made a compilation mix for the British label THaF Records as a promotion for their one year anniversary release called Movement.
With having more than 4,500 followers on SoundCloud, he's getting a lot of support from several music fans and artists.
Thanks to his skills behind the decks, BoЯRoBeats has already played at several events in Belgium, Germany and the Netherlands. He has played with many well known artists, including Bart B More, Henzel & Disco Nova, Modek, The Oddword, Bakermat and GSUS! - away from his shows he has started to produce and a collab with Tybo is coming up.
2014 promises to be great!
P.S.: there's a little surprise in the mixtape

Follow BoЯRoBeats :
SoundCloud : https://soundcloud.com/borrobeats
Facebook : www.facebook.com/borrobeats
Twitter : http://twitter.com/BORROBEATS
Contact/bookings : borrobeats@gmail.com
Tracklist :
01. Gesaffelstein - Control Movement (Valentino Khan Bootleg)
02. Serge P remix - Talk To Me (Les Tronchiennes Remix)
03. JoeFarr – Tape 7 (Original Mix)
04. Madame - No Funk (Original Mix) [GND Records]
05. The Subs & John Roman - The Mouth (Original Mix)
06. Jan Driver - Gain Reaction (Original Mix)
07. Fedeckx - Bassline (Thing Remix)
08. Etnik - Neon Daze (Original Mix) [OWSLA]
09. NEUS - Noises (Original Mix) [ Fuck The Sound Records]
10. Henzel & Disco Nova + NT89 - Black Desert (Original Mix)
11. Madame - The Way It Feel (Original Mix) [Blood Music]
12. EdgeWork - Night Mechanics (ValyMo Remix)
13. Pilo - Ghettocoder (Original Mix) [Boysnoize Records]
14. Jackin With The Drums - Cycle (Original Mix) [Bronson Records]
15. Ado - And, what. (Original Mix)
16. Moonbootica - Bounce With Me (TWR72 Remix)
17. Alesia - Andrea (Original Mix) [OWSLA]
18. Bart B More - Jack (Go Freek Remix) [Onelove]
19. ??? - ??? (Original Mix)
20. Dope Arcade - Ascension (IVARR Remix)
21. Juyen Sebulba - Superjam (Original Mix)
22. Dada Life - Boing Clash Boom (Pelari Bootleg)
23. GSUS! - The Drop (Original Mix)
24. Nom De Strip - I Can't Believe (Original Mix) [Rising Music]
25. Tybo - Obyt (Original Mix)
26. Revolvr & Fast Foot - Rattle (Saint Liz Remix) [Sick Slaughterhouse]
27. Arty Feat. Fiora - Grand Finale (Lucky Date Remix)
28. GTRONIC - The Parade (Original Mix) [Dim Mak Records]
29. Congorock - Seth (Original Mix)
30. StylVer - Ulan Bator (Original Mix)
31. Mightyfools - Go (Original Mix)
32. Congorock & Nom De Strip - Minerals (Original Mix) [Ultra Music]
33. Kaskade & Project 46 - Last Chance (Clockwork Remix)
34. Tommy Trash - Fuckwind (Original Mix) [Wall Recordings]
35. Rawtek - Hidden Temple (Original Mix)
36. DJ Bam Bam & Hatiras - Thrill Her (Original Mix)
37. Dada Life - This Machine Kills Ravers (Original Mix) [So Much Dada]
38. Thomas Newson - Pallaroid (Original Mix)
39. Dumme Jungs - Early (Original Mix)
40. Clockwork - Blitz (Original Mix)
41. Sound of Stereo - Jive (Original Mix)
42. Kayzo & Jordan Alexander - Recoil (Original Mix)
43. R3hab & Lucky Date - Rip It Up (Original Mix) [Protocol Recordings]
44. GTA - Bola (Original Mix)
45. GTA vs. Gesaffelstein - Pursuit Crowd (Charlie Darker Edit)
46. Raymond Lam - BLOW (Original Mix)
47. IVARR - Crash & Burn (Original Mix)
48. Tony Romera - Hey Bean (Original Mix)
49. ??? - ??? (Original Mix)
50. Kill The Noise - Mosh It Up (Henry Fong Remix) [OWSLA]
51. Felix Cartal - New Scene (Deorro Remix)
52. Disco Fries - Parachutes (Original Mix)
53. Phat Deuce & BIG MAKK - Batista (Original Mix)
54. Botnek - I Know (Original Mix) [Dim Mak Records]
55. Mr. Skeleton - Talking That Stupid (Original Mix)
56. Sleepy Tom - The Currency (Original Mix)
57. OverNoize - Thailandia (Original Mix)
58. Nom De Strip - Counting Sheep (Original Mix) [mau5trap records]
59. Wiwek - Angry Birdz (Original Mix)
60. Skitzofrenix - The Soldiers March (Original Mix)
61. Jimi Frew - Aqua Frost (Original Mix)
62. 303 Classics - Asino vs. Public Energy (Jacob van Hage's Oldschool Extended Mashup)
63. Steve Aoki & R3hab - Flight (Original Mix)
64. Sidney Samson feat. Alvita - Make The Club Go Like (Original Mix) [ RockTheHouze]
65. Oliver Heldens - Gecko (Original Mix)