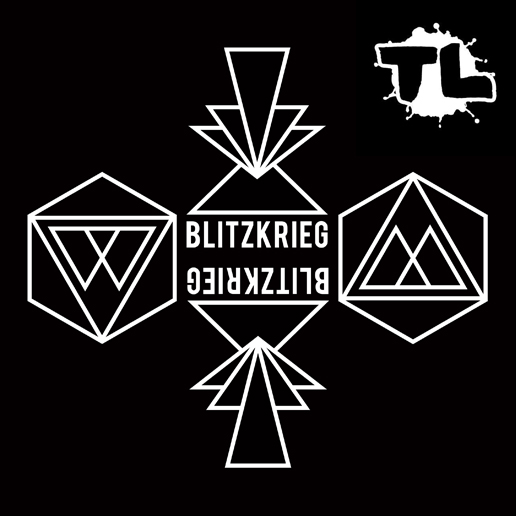 _Blitzkrieg is an italian duo formed by Giulio Donati and Leonardo Benini, both in their early twentieth.
They started their music adventure together playing drums and guitars in the progressive rock band Rapid Phase Transition. In January 2012 they started a parallel electronic project called Aliens Hate My Mum, influenced by electro and electro/dubstep sounds. The Aliens played in many clubs near Forlì, Cesena, Rimini and Ravenna. During this period some new sounds influenced their style, so they evolved from Aliens Hate My Mum to Blitzkrieg.
This new project purpose is to produce and play a particular kind of Techno, based on dark atmospheres , slow bpm, delayed voices. The first Blitzkrieg production is Angst EP, supported by Maelstrom.
In 2013 Blitzkrieg played for Busy Bitch (Rimini), Massive (Cesena), LatoB (Forlì), Alternative Undergroundz (Faenza) and for some different brands (Happiness is a ten dollar tee, ilREstaurato, …).
The second production Brume EP (December 2013) is not released yet. It contains four original tracks and you can find two of these in Tracklistings djset .
Facebook : https://www.facebook.com/pages/Blitzkrieg/263141863753292
Soundcloud : https://soundcloud.com/bltzkrg
Bookings, Requests, Remixes : bltzkrg.music@gmail.com
Tracklist :
01. Aethority - Niceness
02. Djejotronic - Abyssal Zone [Zone]
03. Maelstrom - The Line [Zone]
04. Etnik - Stealth
05. Klangfarbe Antifeind - Eleganz 909 (Original Mix)
06. Zombie Nation - Level (Blitzkrieg Remix)
07. aUtOdiDakT & Nadisko - Nothing To Get (Les Tronchiennes Remix)
08. Eskimo Twins - The Elephant In The Room (Original Mix)
09. Turbo Turbo - Jack Your House [GND Records]
10. Blitzkrieg - Organized Sheeps (Original Mix) [UNRELEASED]
11. Doc Trashz - Fetish! (Klangfarbe Antifeind Remix)
12. Busy P - Still Busy (feat. Thunderbird Gerard) (Maelstrom Remix) [Ed Banger Records]
13. Attaque - Blinded By The Moonlight (Just Regular Guys Remix) [Bad Life]
14. Raving George - Submerse (Original Mix) [CRUX]
15. TRVE - Link
16. Molecule - Harvard Oppression
17. Mikron - Soul Provider (Original Mix)
18. Blitzkrieg feat. Powder Jay - I.C.A.N. (Original mix) [UNRELEASED]
19. Theophilus London - Last Name London (Brodinski remix) [Reprise Records]
20. Panteros666 - Snaredrum Warfare [Bromance]
21. Fat And Ugly, Bobble - Stratos (Original Mix) [Gold Nite Records]
22. THE RØX - Ez (Original Mix)
23. STSB - Four