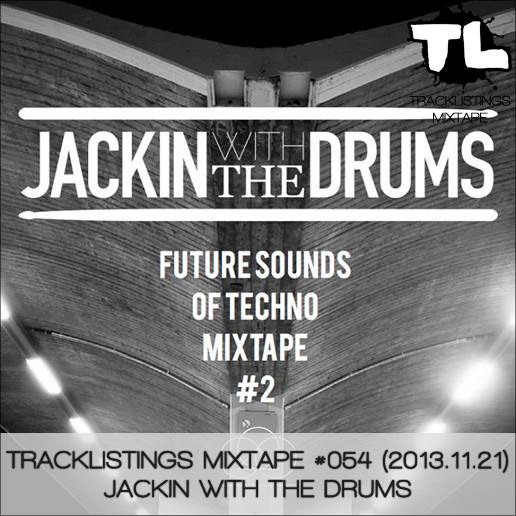 JACKIN WITH THE DRUMS - FUTURE SOUNDS OF TECHNO #2 MIXTAPE
Jackin With The Drums celebrate their Technoracy EP (Bronson Records) with a power Mixtape including 7 unreleased tracks from Fat and Ugly, Thing, Les Tronchiennes, Klangfarbe Antifeind, Greeting Orbit, Ntology and also one exclusive track from themselves . The Tape is the second edition of their "Future Sounds of Techno" Mixtape series, this time it has exclusively been made for Tracklistings. Artcover made by Gilmer Galibard.
Their "Technoracy EP", supported by Zombie Nation, John Roman, Ostblockschlampen, Modek, aUtOdiDakT, I Need?, Gmorozov, Axel von Wuthenau, GSUS, Thing, Mon Colonel, Ntology, Count Clockwork, Sovnger, Pump The Noise, Fellow Chive, Fedeckx, Symmetry, Vuiton, Raving George, Bad Dancer... is already released (Release date: November 04, 2013) : Technoracy EP - Bronson Records by Jackin With The Drums
Follow Jackin With The Drums :
Myspace : https://new.myspace.com/jackinwiththedrums
Twitter : https://twitter.com/Jackinwithdrums
Facebook : www.facebook.com/jackinwiththedrums
Soundcloud : https://soundcloud.com/jackin-with-the-drums
Youtube : https://www.youtube.com/user/Jackinwiththedrums
LastFM : http://www.lastfm.de/music/Jackin+With+the+Drums
Resident Advisor : http://www.residentadvisor.net/profile/jackinwiththedrums
Jackin With The Drums is a DJ, producer and remixer trio from Belgium. A long friendship and common music interest unified these three friends, who where djing through belgium under different projects. In summer 2011 they started up with Jackin With The Drums. Their first EP Ahoj & Vulcan was released on WBO records and was just the perfect start for them. They gained support from respectful dj's like Modek. On this EP was also a remix from the talented Sovnger (FR). This Remix made a buzz and was also played by Annie Nightingales on her Show on BBC 1. The original Ahoj was picked up by Myspace in the hottest tracks of may 2012. During the next months the guys made official remixes for Meisterfackt and the newcomers Skinlips and Karl M. Their Remix of Bingo Player's "Rattle" gained a lot of reactions in the scene and got support by known DJ's ( e.g.. Fat and Ugly, Etnik,..) Their second EP "Enormous" has been released mid of december 2012 on Tuff Em Up! Records (Australia), which released for the first time a techno EP. Tuff Em Up is known for signing talented dj`s (f.o.o.l., Dem Slakers, Redial, dj Attention, Barresto, Etnik,..) and their intuition was right again, because the EP got direct support from DJ's like Zombie Nation, Tommie Sunshine, NT89, TWR72, Larry Tee, Henzel & Disco Nova, Sound of Stereo, Malente,...
Then, they released a few months later a remix for Pump The Noise (IT). The Remix of his track "Casino Royale" is probably the best ambience track that you've heard so far. At that time they already produced their 3rd EP. But time past by so fast and before releasing their third EP they released a Remix for the producer Molecule (FR) and for the DJ collab Autodidakt & Nadisko. Just after the remixes, the three original tracks EP (like on Tuff) - called Technoracy EP - came out on Bronson Records (Paris) . Again, with this release they showed that they really don't need remixers to produce a diversified EP. Like always they brought us an high quality EP with at least one club banger which is named "cycle".
Tracklist :
01. Len Faki & Johannes Heil - Dirty (Original Mix) [Figure]
02. Draag & G-23 - Jack On Acid (Shadow Dancer Remix) [Black Nite Records]
03. Jackin With The Drums - Cycle (Original Mix) [Bronson Records]
04. Tiga VS Audion - Let's Go Dancing (joeFarr Remix) [Turbo Recordings]
05. Thing - ID (Original Mix)
06. Rob de Large - ID (Klangfarbe Antifeind Remix) [Mähtrasher]
07. Jackin With The Drums - Enormous (Original Mix) [Tuff' Em Up! Records]
08. Ntology - 7 A.m. (Original Mix) [Bronson Records]
09. Serge P - Talk To Me (Les Tronchiennes Remix) [unreleased]
10. Fat and Ugly - Ex [Gold Nite Records]
11. Jackin With The Drums - ID
12. Moonbootica - Bounce With Me (TWR72 Remix) [Moonbootique]
13. Jackin With The Drums - Echoes (Original Mix) [Bronson Records]
14. Greeting Orbit - ID (Original Mix)
15. Unklone - Grit 555 (Original Mix) [Fifth Wall Records]
16. Panteros666 - Snaredrum Warfare (Original Mix) [Bromance Records]
17. Peter Kneer - Paranoid (Original Mix) [Chromatique Records]
18. Jackin With The Drums - Concrete (Original Mix) [Bronson Records]
19. Pilo - The Distorted Truth (Original Mix) [Boysnoize Records]
20. Sinden & Astronomar - Shoe Horn (Original Mix) [BNR TRAX]
21. Maelstrom - The Line (Original Mix) [Zone]
22. Roderick Fox - Slap The Snare (Original Mix) [Sorted Records]