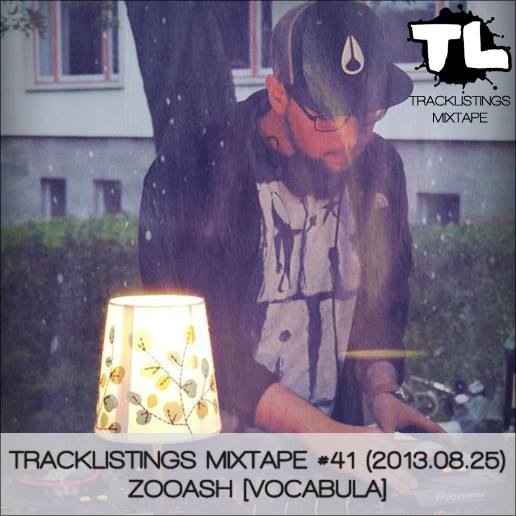 "New Wave Adventure"
Since the fall of 2010, the name Zooash has been synonymous with massive techno vibes and European nights filled with the sounds of acid.
But Zooash isn't just a new face in the scene. In fact, he's worked on various electronica-projects since 2008, lending him prodigious production skill and veteran-status in the game.
These days, Zooash is enjoying considerable success, with his work receiving support from the likes of Dem Slackers, Audionite, Etnik, Nickel, Hoshina Anniversary, Rob De Large, Myam Myam, Wetness, JTRP and many more.
He released in Summer/Fall 2011 on Freaks Like Us Records, Klangekstase Records and Èquinoxe Records his first remixes, followed by releases 2012 on Silver Wave Records and Vocabula Recordings.
Keep a look out for his upcoming premier debut EP on a upcoming label from UK and many more releases in 2013. And a lot of new shows, stay tuned.
Already got powered by EARMILK and OMGITM.
He just relaunched an old project with a very good friend. It's called Felix Quadrat and stands for some deeper house production and you'll hear more of it in future.
A quite different project is "Vocabula Recordings", together with his buddies Pandaro (Chemnitz) and Flashdisco (Dresden). The label stands for "NO SHOW, NO HYPE, NO SHIT – JUST MUSIC". It's a platform for any talented electronic producers, who get lost in the world wide web.
Follow Zooash :
Soundcloud : http://soundcloud.com/zooash | http://soundcloud.com/zooashmixtapes
Facebook : http://www.facebook.com/zooashmusic
Twitter : http://twitter.com/Zooash
MySpace: http://myspace.com/zooashmusic
Beatport: http://www.beatport.com/artist/zooash/218614
Follow Vocabula :
Soundcloud : http://soundcloud.com/vocabula
Facebook : http://www.facebook.com/vocabulaofficial
YouTube : https://www.youtube.com/user/VocabulaRecordings
Follow Felix Quadrat :
Facebook: http://www.facebook.com/pages/Felix-Quadrat/164048073654877
Soundcloud: http://soundcloud.com/felix-quadrat
Full Tracklist :
01. Orson Wells - Leaving
02. Nick Höppner - Red Hook Sail
03. Gimmix - Fragments
04. Pedestrian - Hoyle Road (Benjamin Damage Remix)
05. Iron Galaxy - Dragging Your Feet
06. Nina Kraviz - Best Friend (DVS1 Forever Mix)
07. Pandaro - Break
08. Gingy & Bordello - Saturday Night Fervor
09. Zooash - 50cl (Demo Version)
10. Sei A - Swoon
11. 2000 and One - Canis Lupis
12. Zooash - Soda (Demo Version)
13. Benjamin Damage - 010x (Truncate Remix)
14. Inner City - Good Life (TWR72 Dub)