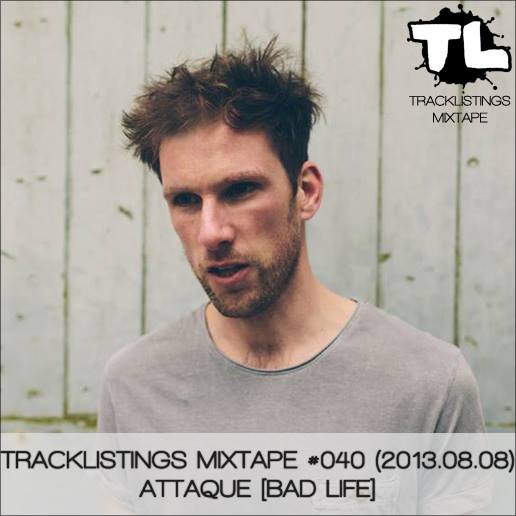 With massive support from the likes of Tiga, Erol Alkan, Fake Blood & Brodinski, Attaque has quickly become one of the rising stars of the modem electro and techno scenes. His original productions on Bad Lifen, Dim Mak, Turbo and Lektroluv as well as huge remixes for ZZT and Bart B. More have set Attaque apart as an extraordinary talent. His music is always found in the setlists of the biggest names whilst he has himself earned a reputation as a remarkable live performer and DJ through his epic sets in the world's best clubs including Bugged Out, Paris Social Club, Razzmatzz Barcelona, Air Tokyo and Transmusicales.
With a string of EP's to come throughout the year, and big support already from Mixmag, DJ Mag, The Guardian, Les In-rocks and BBC Radio 1, 2013 looks set to be Attaque's busiest year yet.
His full live band's debut show at Tranmusicales was for many the highlight of the festival and he takes to the road for live and DJ dates of clubs and festivals across the globe throughout 2013.
Attaque - Nightmares (Feat. Bones) EP by Attaque featuring remixes from JoeFarr, IDC and a free download of Luke Walker's Remix...
This EP is supported by : Brodinski, Crookers, Diplo, Chuckie, Boris Dlugosh, Modek, BS1, Mumdance, Ego Troopers...
Follow Attaque :
Website : http://www.attaquemusic.com
Soundcloud : Attaque
Facebook : http://www.facebook.com/Attaqueofficial
Twitter : http://twitter.com/attaquemusic
Tumblr : http://attaquemusic.tumblr.com
Follow Bad Life :
Website : http://www.bad-life.com
Soundcloud : Bad Life
Facebook : http://www.facebook.com/wearebadlife
Twitter : http://twitter.com/wearebadlife
YouTube : https://www.youtube.com/user/actiomgmt
Beatport : http://www.beatport.com/label/bad-life/18556
Tracklist :
01. LeBreton - Shutter
02. Hybrid Theory - So High
03. Paleman - Half Out [School Records]
04. Gingy & Bordello - All Day [Turbo Recordings]
05. Attaque - Nightmares (JoeFarr Remix) [Bad Life]
06. Clouds - Future 1 [Turbo Recordings]
07. Mickey Pearce - Tempted (F+ck Tonto Edit) [Ten Thousand Yen]
08. Neana - Jaw Breaker
09. Modek - Backyard Cathedral [Lektroluv Records]
10. Donovans - Just4U [11Heads Records]
11. Paul Woolford - Untitled [Hotflush Recordings]
12. Alex Coulton - Too Much Talk (Tessela Remix) [92 Points Recordings]
13. Attaque - Public Order
14. Mumdance & Logos - Move Your Body
15. Trevino - Derelict [NakedLunch]
16. Attaque - If You See Them
17. Randomer - No Hook [Turbo Recordings]
18. Special Request (Paul Woolford) - Wall To Wall [Houndstooth]
19. Bot - Trails [Blood Music]
20. Moderat - Bad Kingdom [Monkeytown Records]