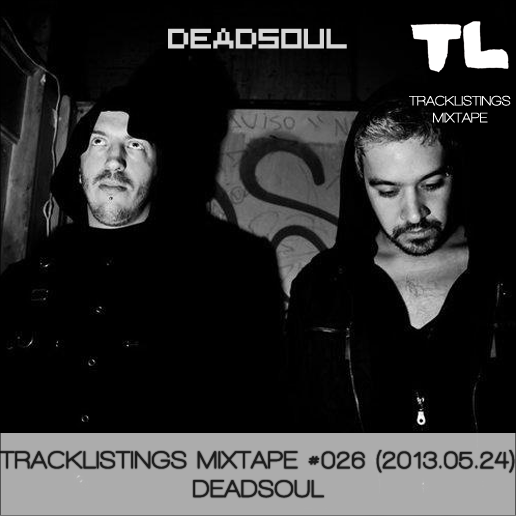 http://deadsoul.bandpage.com
http://soundcloud.com/deadsoul-music
http://www.facebook.com/deadsoul.music
DJ Y∆NDR∆K : http://soundcloud.com/dj-yandrak
Kiss My Trash! : http://soundcloud.com/kiss-my-trash
For the 26th Mixtape I let you discover the Argentine duo : Deadsoul, for a very dark exclusive Mix !!!
Deadsoul is integrated by two djs and producers (Dj Yandrak & Kiss My Trash) that experiment with diferent genres of electronic music like Techno, Electro, EBM, Industrial and Pop sounds, creating a new concept of mental sounds.
They have a Destroy All Concepts Mixtape Series every month, and they released their first EP called BCKP\EP : http://soundcloud.com/deadsoul-music/sets/deadsoul-bckp-ep
They are currently working on their first video series and visuals from their live shows.
Tracklist :
01. Made In Paris - Can´t Hear You
02. Gabriel Ferreira - Cervo (Caletazz Remix)
03. Nitzer Ebb - I Thought (Robags Schilkkuli Vocal Rework)
04. Rekorder - 1.2
05. The Hacker - 10 Ans Sans Dormir
06. Gesaffelstein & The Hacker - Crainte (Clement Mayer Remix)
07. Miss Kittin - Life Is My Teacher (Borderline Remix)
08. Tiga - Plush (Art Majours Remix)
09. Marc Houle - Hitcherman (Magda Hitcher Woman Remix)
10. Fapples - Put Ma Word (Gabriel Ferreira Remix)
11. Phil Kieran - Dirt
12. Mixhell - Antigalactic (Gui Boratto´s Out Of Bounds Mix)
13. Sirkus Sirkuz - Forgiveness
They're looking for a netlabel
Contact: deadsoulmusic@gmail.com