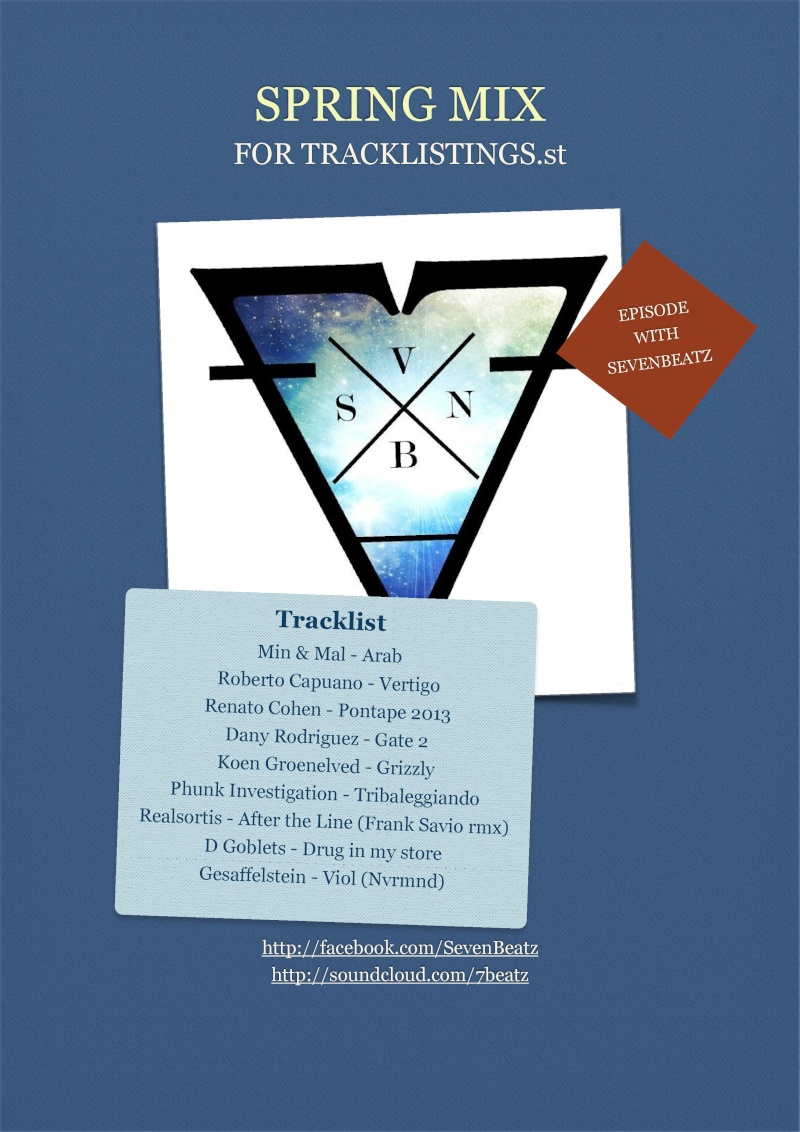 http://soundcloud.com/7beatz
https://www.facebook.com/SevenBeatz
http://twitter.com/DJ7beatz
7beatz@laposte.net
Thomas, aka "SevenBeatz" or "7beatz" is a young French DJ. From an early age, he discovered the music called "techno" by his parents.
He began mixing at the age of 14 years, in a style Trash. After was resident blogger and radio forum and tracklistings after mixed in several bars, one can speak of a young DJ who relies on techno tracks but does not hesitate to go for a little more electronic styles, to us frequently intermarried sets, or even lives acid / techno. It has proven to mixing near The Chillers, Fla. Tshy, Leather Selecters, The Failers, Victamine or ATLAS. The small secure the assoc "Turbopolis" has not finished its progress in the world of music.
Thomas, alias "SevenBeatz" ou "7beatz" est un jeune DJ français. Dès son plus jeune âge, il découvrit la musique dite "techno" grâce a ses parents.
Il commença a mixer à l'âge de 14ans, dans un style Trash. Après avoir était bloggeur et résident de la radio du forum TRACKLISTINGS et après avoir mixé dans plusieurs bars, on peut parler d'un jeune DJ qui se base sur des morceaux techno mais qui n'hésite pas a visitez des styles un peu plus electroniques, pour nous faire des sets souvent métissés, ou même des lives acid / techno. Il a fait ses preuves en mixant au près de The Chillers, Fla Tshy, Leather Selecters, The Failers, Victamine ou encore ATLAS. Le petit protegé de l'assoc "Turbopolis" n'a pas fini son avancé dans le monde de la musique.
Tracklist :
01. Min & Mal - Arab [No Logik Records]
02. Roberto Capuano - Vertigo [Drumcode]
03. Renato Cohen - Pontape (2013 Remake) [Drumcode]
04. Dany Rodriguez - Gate 2 [MB Elektronics]
05. Koen Groeneveld - Grizzly [_aBZoluT. (Spinnin)]
06. Phunk Investigation - Tribaleggiando [Phunk Traxx]
07. Realsortis - After the Line (Frank Savio Remix) [DSR Digital]
08. D.Goblets - Dug in my Store [Drugstore Records]
09. Gesaffelstein - Viol (NVRMND Remix) : http://soundcloud.com/nvrmnd808/gesaffelstein-viol-nvrmnd