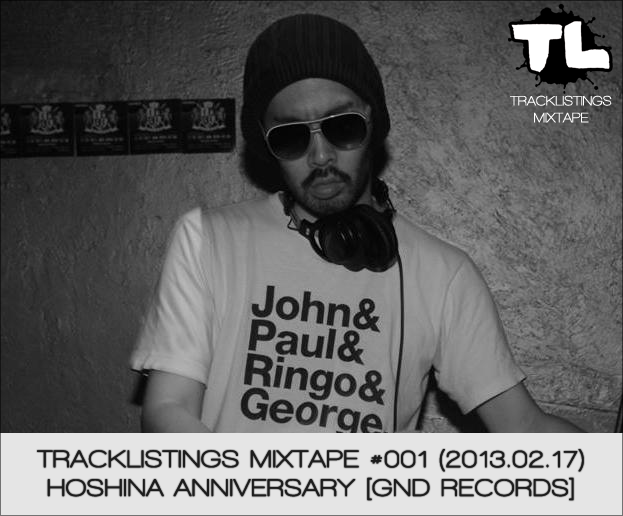 http://soundcloud.com/hoshina
https://www.facebook.com/HoshinaAnniversary
https://twitter.com/HoshinaA
http://gndrecords.de/artists/hoshina-anniversary-2
For the launch of our first Mixtape we are proud to receive Hoshina Anniversary for an exclusive Mixtape composed of 19 strong tracks !!!
Hoshina Anniversary is a DJ and producer based in Tokyo (Japan).
His new EP is coming next month on GND Rec. (Release date: Mar 15, 2013)
His Tuxedo EP (GND Records) is supported by A-Trak, Alex Gopher, Etienne de Crecy, Feadz, Attaque, Paul Chambers, Mumbai Science, Maxime Dangles, Les Petits Pilous, Sinden, Decalicious, Don Rimini, The Sneekers, Sharooz, Keith & Supabeatz, Arveene & Misk, Moonbootica, Elektropusher, Ego Troppers, Malente, Sovnger, Peo de Pitte, Mr. Magnetik, Larry Tee, Zero Cash, Blende, I Need? etc.
Especially A-Trak dropped his track "Chicago" in "Fool's Gold Radio - February 2012 Mix".
And "Chicago Remixes EP"(by Sharooz, The Sneekers, Turbo Turbo) was out in June.
"Vision EP" will be out on 28th of September.
This EP is supported by SOULWAX, Electric Rescue, Etienne de Crecy, Sound of Stereo, Attaque, Paul Chambers, Turbo Turbo, S-File, Grum, Costello, Party Harders...
01. Bodhi - Culture (Bambounou Remix) [Grizzly]
02. The 2 Als (Ali Black & Alixander III) - Blame Society [Idol Hanse]
03. Dense & Pika - Morse Mode [Dense & Pika]
04. Crackboy - Kiddo [I'm A Cliché]
05. Detroit Grand Pubahs - Acid Dreams (The Ac!d Face Session) [AA TRAX]
06. Australia - Techno Music 2013 [Motorik]
07. Maelstrom - Bipolar [BNR TRAX]
08. The Sneekers - Prime [GND Records]
09. Hoshina Anniversary - Parachute [GND Records]
10. Feadz, Kito - Oh Yeah (BS1 Remix) [Ed Banger Records]
11. Headz Up - Onoria [No Brainer Records]
12. Renaissance Man - Call2Call [Turbo Recordings]
13. Shadow Dancer vs. Sirkus Sirkuz - Use (Hoshina Anniversary Remix) [GND Records]
14. Stinson - True at First Light [CDR]
15. Deface - Part 1 [Chaungo Records]
16. Mr. Oizo - Douche Beat (Paul Chambers Remix) [Ed Banger Records]
17. LeBreton - Legion [Blood Music]
18. Hoshina Anniversary - Don't Stop (S-File Remix) [GND Records]
19. Chaungo, 1984 - Get Up! [Chaungo Records]
Releases on GND Records:
Hoshina Anniversary – Tuxedo EP (2012) (GN014) : http://www.beatport.com/release/tuxedo-ep/857310
Hoshina Anniversary – Chicago Remixes (2012) (GN022) : http://www.beatport.com/release/chicago-remixes/918319
Hoshina Anniversary – Safari (Dub Version) (2012) (GNSAMP003) : http://www.beatport.com/release/everybody-dance-vol-3/918341
Hoshina Anniversary – Vision EP (2012) (GN030) : http://www.beatport.com/release/vision-ep/962986
Hoshina Anniversary – Dakar EP (2012) (GN036) : http://www.beatport.com/release/dakar-ep/993321
Shadow Dancer vs Sirkus Sirkuz – Use (Hoshina Anniversary Remix) (2013) (GN039) : http://www.beatport.com/release/build-use-remixes/1020246