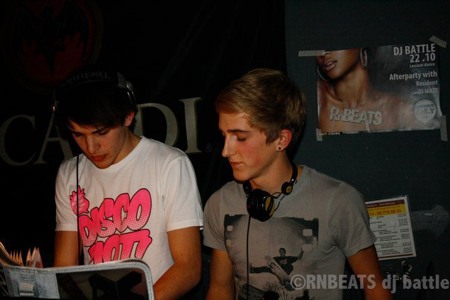 More info:
www.facebook.com/DJsJnC
Bookings:
dj_jnc@hotmail.com
Genres: Electro / Fidget / House
Quote :

3 Months ago i made a mixtape with only modek tracks and remixes. (ModekMadness by Dj's JnC)
Since that one had success i decided to make another one of a recently (1year ago) discovered duo who are taking over the world with their own unique sound!
TWR72!
01) Alex Metric & charli XCX - End of the world (TWR72 remix)
02) TWR72 - Autumn
03) De Jeugd van Tegenwoordig - Elektrotechnique (TWR72 remix)
04) TWR72 - Femme Fatale
05) TWR72 - Future Tool
06) The Benelux - Girl Singer (TWR72 remix)
07) Dems - House (TWR72 remix)
08) Sharooz - Hysteresis (TWR72 remix)
09) TWR72 - Impulse
10) Jamaica - I Think I Like U 2 (TWR72 remix)
11) Mike Mago - Plant (TWR72 remix)
12) Bart B More feat. TAI - Nobody Canna Cross It (Di Bus Can Swim) (TWR72 Remix)
13) Sound of Stereo - Opal (TWR72 remix)
14) TWR72 - Paradox
15) ZZT - Partys Over Los Angeles (TWR72 remix)
16) Nobody Beats the Drum - Poisson Vert (TWR72 remix)
17) Jean Nipon - Rosso (TWR72 remix)
18) TWR72 - Shock
19) TWR72 - Tunnel
20) TWR72 - Summer of 91 (Acid Version)
21) Teki Latex - Dinosaurs with Guns (TWR72 remix)
22) TWR72 - Winter
23) Seymour Bits - This Is The Place To Be (TWR72 remix)
24) Housemeister feat. P.O.S. - Weird Friends (TWR72 Dub Mix)
25) John Lord Fonda - What's Going On ? (TWR72 Remix)
Recorded with
2x CDJ 850
1x Behringer DJX750
Enjoy, share, follow and like us on facebook
www.facebook.com/DJsJnC
Bookings:
dj_jnc@hotmail.com