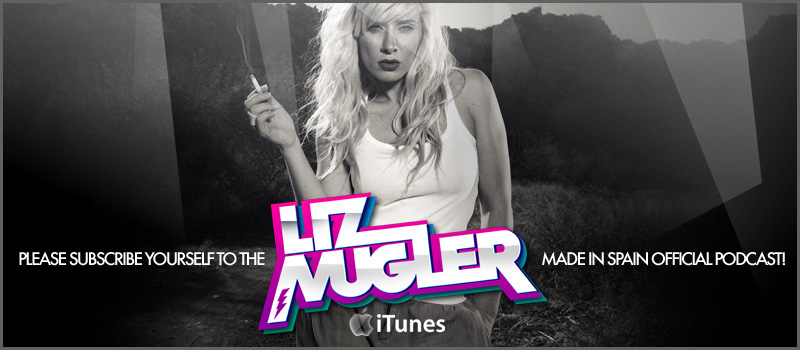 LIZ MUGLER : www.myspace.com/lizmugler (Resident dj Café Olé@Space Ibiza 2009/2010 / Quarterly Resident @ Pacha Marrakech)
This is the official Liz Mugler Podcast RAdio Show " Made In Spain". Every week Liz Mugler selects the most hot tunes and brings you the awesome clubbing vibe all across the House Music World. Subcribe and get each week on Itunes Made In Spain´s Radio Show & Sessions. Subscríbete y recibe cada semana en Itunes las sesiones y radio shows de Made in Spain!!! www.myspace.com/lizmugler www.soundcloud.com/feelthe8records
http://www.lizmugler.com/public/Popcast/radioshowmadeinspain.xml
01. Laidback Luke, Nouveau Yorican, Gina Turner - Chiuso (Original Mix)
02. Cublular Dj's - The bell track (Chardy remix)
03. Tube & berger - Free tribe (Original)
04. Nightriders - Hey (Nom Destrip rmx)
05. Christian Luke - Ivy (Original mix)
06. Underworld - Born Slippy (Che Jose 2011 Re-boot)
07. Sandro_Silva_vs_Ultra_Nate_Only_You_can_be_Free__(Eddie_Thoneick_Bootleg)
08. I-am-Sam vs Men at work - Down Under (Che Jose remix)
09. Vicious Maverick vs. Da Hool - Drop The Bomb At The Loveparade (Ragi Da Groove Edit)
10. Avicii vs. Kings Of Leon - Abow vs. Sex On Fire (Avicii's Bootleg)
11. Che Jose feat Roxane Lebrasse - T.A.R.A.S song (Paris Fz and Simo T rmx)
12. Cassius - Sound of Violence (Che Jose big room remix)
Che Jose www.myspace.com/djjass
Che Jose is a Sydney based DJ/Producer. After having played at pretty much every single major club within Sydney and interstate, with the inclusion of Miami, Washington, Argentina and Peru, Che Jose is now focusing heavily on music production and taking it to the next level.
Che Jose now has two releases out ("From Sydney with Love EP'), including the spanished flavoured guitar track "Flamenco Guitar' and the Piano crazed track 'From Sydney with Love'.
2010 has proven to be both a versy busy and sucessful year. Che Jose has also finished collaborations with singers Mark Shine on the EP 'Its' you" out in September 2010 and the the house fuzed track 'So far" with Mr Wilson. With a pending release of there next collaboration 'Leave me lonely later this year'.
A few other projects and bootlegs are in the works, with his remix of Cassius 'The Sound of Violence' receiving support from industry heavy weights such as, Syke N Sugarstarr and Copyright, and also his up and coming remix for German based DJ/Producer due Syke and Sugarstarr 'I like that sound' should be dropping in early 2011.
As 2010 reaches the its second half watch this space for bigger things to come in 2011.
If you like what you hear, contact me via soundcloud or on facebook, (check out my facebook page 'Che Jose'). Alternatively If you would like to have any of your work remixed, or for dj bookings please contact me on on dj_jass@hotmail.com please make sure you title the Subject as 'Remix' or 'Booking'.
Also you can subscribe to my monthly podcast from the following site http://chejose.podomatic.com
Director & Label Manager Feel The8 Records
Caridad Rojas
caridad@feelthe8.com
demos@feelthe8.com
www.feelthe8.com
http://www.myspace.com/lizmugler
http://itunes.apple.com/es/podcast/radio-show-made-in-spain/id357099534
https://www.facebook.com/caridad.rojas
https://www.facebook.com/group.php?gid=152068435368&ref=ts
http://twitter.com/lizmugler
https://www.youtube.com/feelthe8
https://www.youtube.com/elisabethmugler
http://www.feelthe8.com