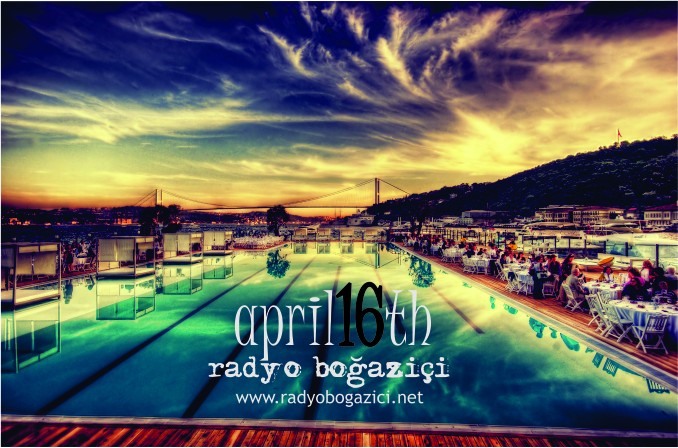 Ersin Ayli - Live at radyo bogazici party - Suada ISTANBUL (Turkey) (16.04.2010)
SET:
Download - Rapidshare
MEDIA:
http://tr.tilllate.com/tr/event/10167996
https://www.youtube.com/user/eayli
Tracklist;
01. Black Eyed Peas - I Gotta Feeling (Laidback Luke Remix)
02. David Guetta feat. Akon - Sexy Bitch (Chuckie & Lil Jon Remix)
03. Sgt Slick & Chardy – Back On Black (Slick's bronxified ReRub)
04. Lady Gaga ft Beyonce vs Metallica - Enter Telephone (Djs From Mars Club Remix)
05. Madonna - Feels Like A Prayer (Acapella) w/ Dirty South - Let It Go (Axwell Remix) w/ Ida Corr - Let Me Think About It (Fedde Le Grand Remix) (Loop) w/ David Guetta - Love Don't Let Me Go (Acapella)
06. Larry Tee, Roxy Cottontail - Let's Make Nasty feat. Roxy Cottontail (Afrojack Remix) w/ Bingo Players - Devotion (Sax) w/ Alex Gaudino - Destination Calabria (Tool)
07. Spencer & Hill, Dave Darell - It's A Smash (Dave Darell Mix-Ersin Ayli Edit) w/ Pink - Get This Party Started (Acapella) w/ Britney Spears - 3 (Acapella)
08. David Guetta Ft Estelle - One Love (Chuckie & Fatman Scoop Remix) w/ Axwell - Together (Acapella)
09. Fao vs Chuckie - Bass Kick In Miami (Inphinitys WMC 09 Mix - Ersin Ayli Edit)
10. Robin S vs Steve Angello & Laidback Luke - Show Me Love vs Be (Hardwell Remix) w/ FLG & Sweet Mercy & Sidekick - Reach Your Hands Deeper (Ersin Ayli Bootleg)
11. D.H.S. Vs. Brahms & Klement Bonelli - House Of Los Chicanos (KG Vs. Chocolate Puma Bootleg) w/ Shakedown - At Night (Acapella)
12. Tristan Garner & Gregori Klosman - Fuckin Down (Original Mix)
13. Bart B More vs. Dj Kool - Make Some Noise (Nadastrom Rework)
14. DJ Bam Bam ft Mr. Robotic - Watch The Club Go
15. Fedde Le Grand - Walking On A Sweet Dream
16. Tocadisco vs. Chemical Brothers - Hey Morumbi
17. Chris Kaeser - Whos In The House (New Vocal Extended)
uhh..